Bespoke Kitchens For Modern Living
The modern kitchen is more than just a place to prepare meals. Whether you're catching up with friends or catching up on emails, the kitchen is a multifunctional space for work, rest and play. That's why we create bespoke kitchens which are designed for the way you live. From designing a kitchen that features all of the appliances and storage you need, to fitting and finishing touches, we will take care of every element of your project. All you need to do is choose a kitchen you love from our stylish range. To find out more please get in touch today.
Find Your Style
Create clean lines with contemporary handleless cabinets. Channel classic style with a traditional Shaker kitchen. Or take inspiration from country living with a rustic oak design. Whatever your style, we have a kitchen to match. And with colour options ranging from soft neutrals to pretty pastels, you're sure to find a stylish shade you love. Using one of our kitchen ranges as a starting point, you can work with our kitchen designers to create your bespoke living space. Whether you have an open-plan kitchen-diner or a compact galley kitchen, we can transform it into your favourite room in the house.
Once you've chosen a design and colour, take your pick from a range of high quality worktops to complement your cabinets. Then trust our team to install your new kitchen with minimal disruption to your home, making the entire process simple and stress-free.
Complete Design Service
However large or small your kitchen, we can help you make the most of every inch of space with a practical, functional design. Our kitchen designers will turn your ideas and inspiration into a design that suits your home and lifestyle, taking on board your feedback to get everything just right. Visit our showroom in Bedford to see for yourself our range of stylish kitchens, or arrange a free home visit to begin designing your dream kitchen.
Contact Us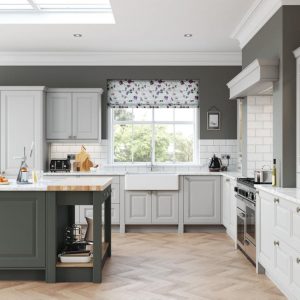 Amberley
X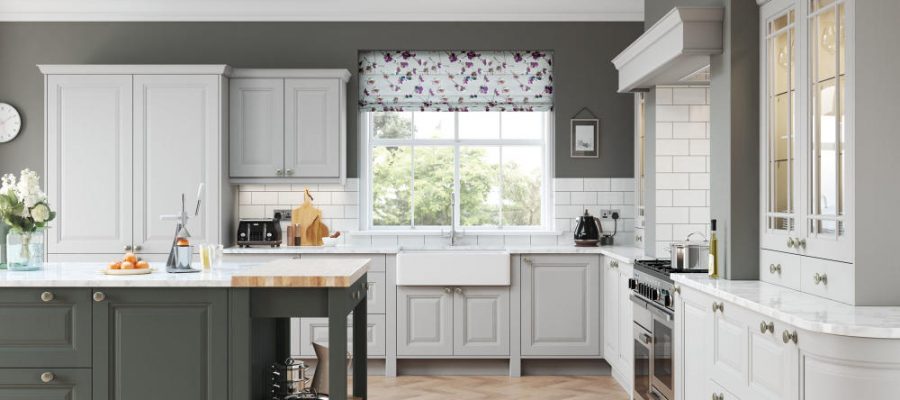 Amberley
Our latest range of furniture creates a new look by combining a painted effect design without having to have the traditional shaker style. Available in Natural Oak and our hand painted finishes, Amberley can help transform the look and feel of any home. All doors are raised and fielded and are made from solid oak sourced from renewable timber sources. You can even add your own stylish twist with curved or open feature units.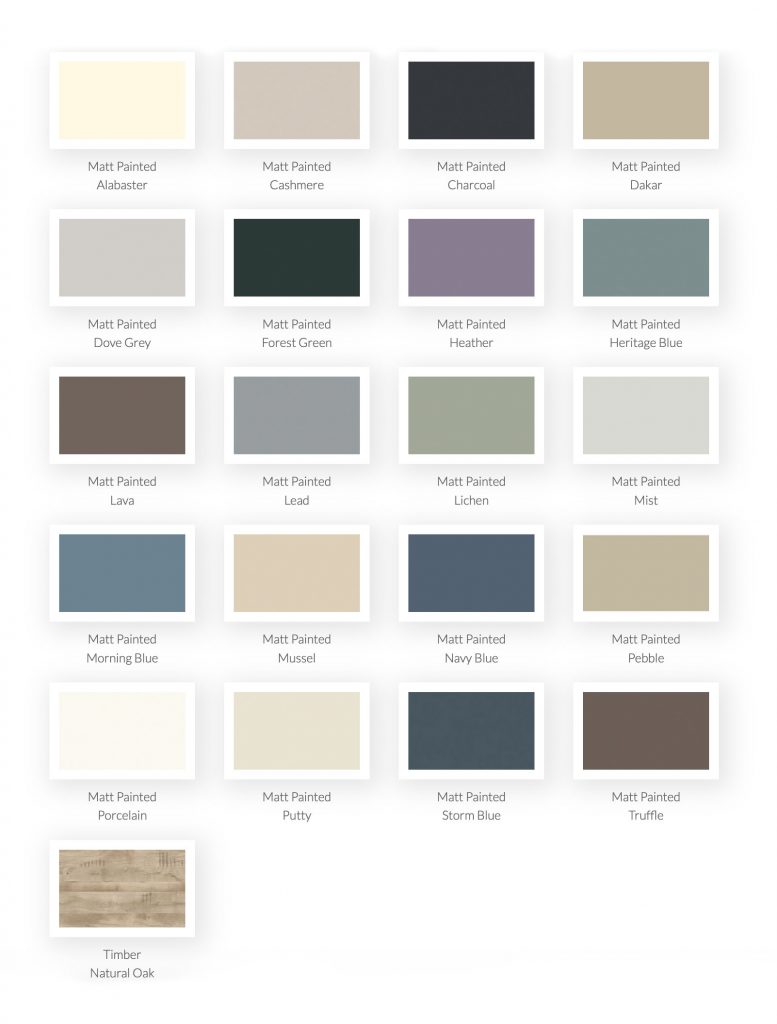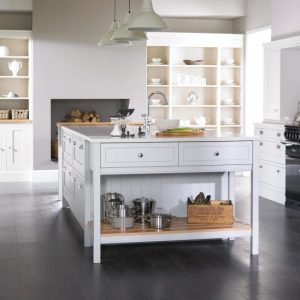 Bramham
X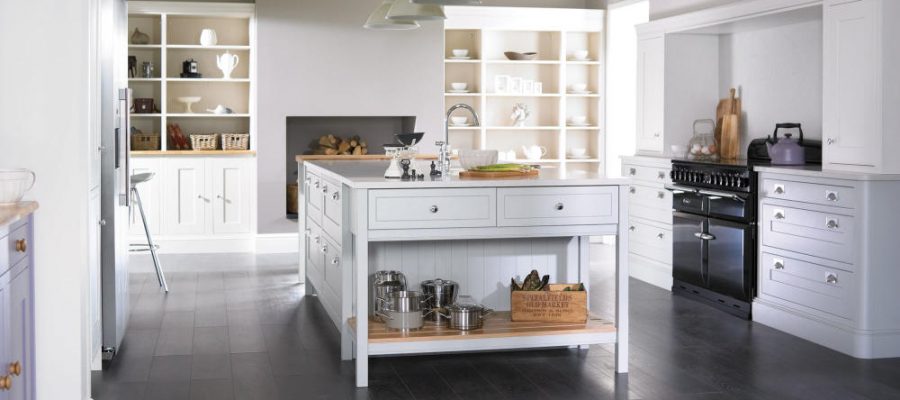 Bramham
A modern shaker in-frame design with clean door proportions makes this range a sophisticated classic design, finished with new chrome cup handle and matching knob. We designed our oak drawers with a soft curve profile and a large gallery rail which maximises the storage available inside the cabinet. Rather than a traditional dovetail joint, which is poor when it comes to the amount of adjustment, we use a metal dowel so that we have 3 way adjustment on all our drawers which sits behind our branded drawer cap. A perfect blend of technology and traditional craftsmanship. We have a large range of complementary oak storage solutions which sit within the drawers such as knife blocks, spice holders, stainless steel jars and dividing systems to make sure your kitchen is organised. We love Potboards as they create a unique focal point in the kitchen, and are designed to be used at the end of an island or as a free standing piece of furniture.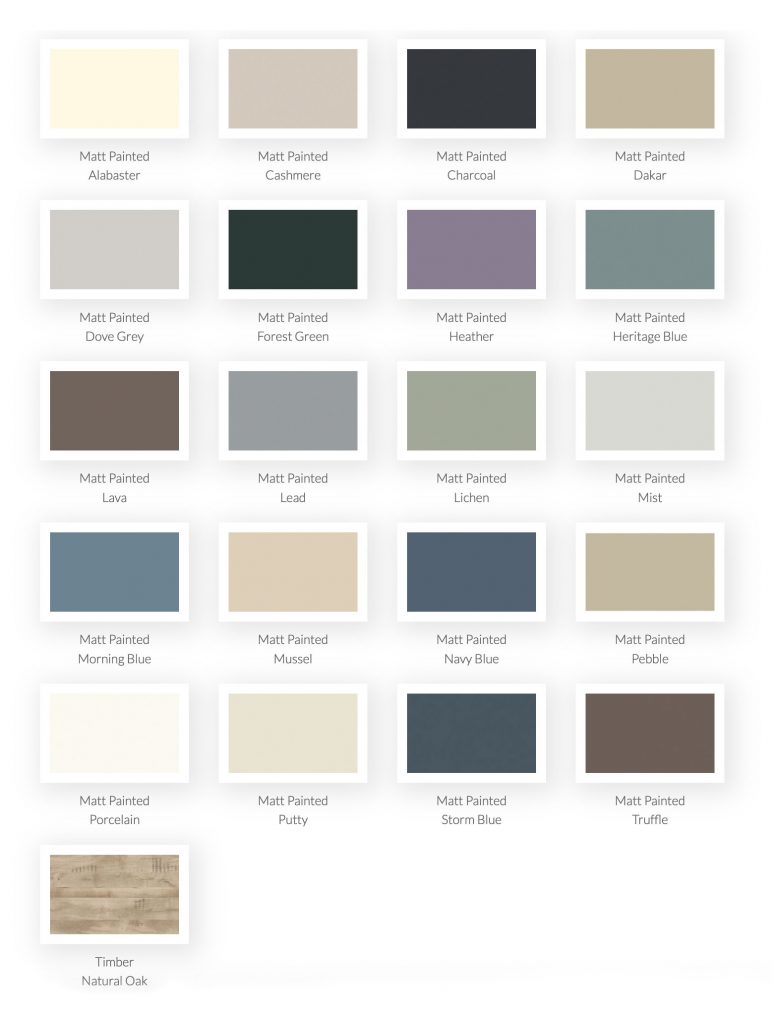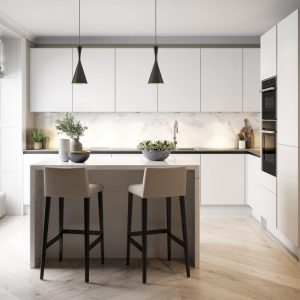 Camden
X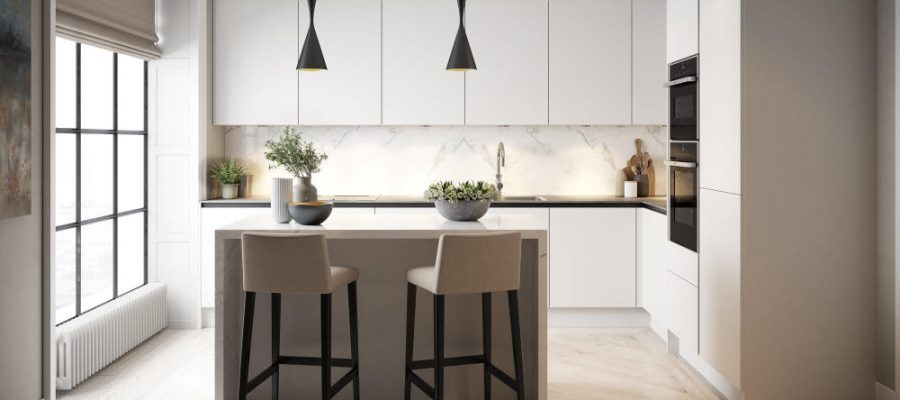 Camden
The new Camden Kitchen Furniture Collection epitomises fusion design with a clever mix of hard and soft materials and styles. Seen here with tall Premium White units, Camden creates a sleek bank of appliances to make full use of storage space across the once bare wall. Our clever corner solutions and tall wall units maximise the storage space available, while the integrated colour matched gloss end panels and Anthracite handleless profile give the Camden kitchen a high end finish. Finished in UV gloss lacquer, Camden is now available in Premium White along with three brand new finishes of Cashmere, Dove Grey and Dust Grey. With the ability to colour-match, Camden is a timeless furniture collection with poise and tranquillity at the heart of its design.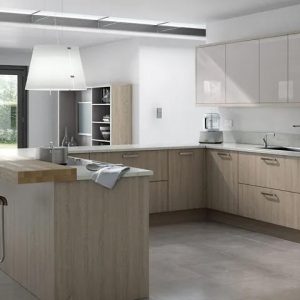 Como & Garda
X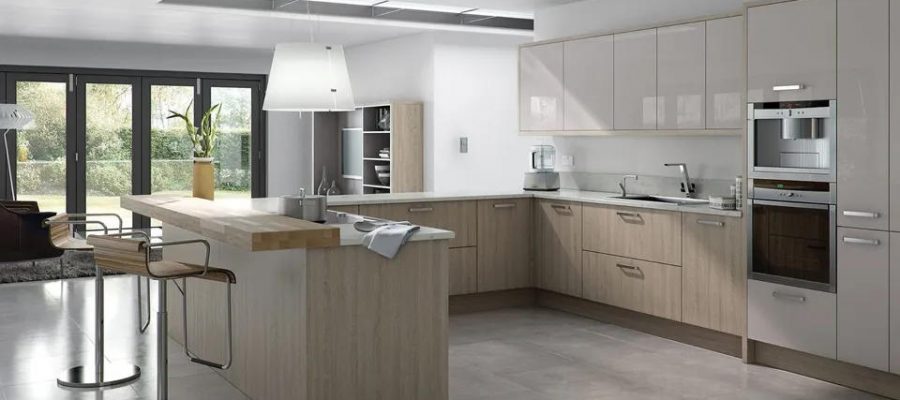 Como & Garda
This modern slab door provides a natural addition to any kitchen, shown here in rough-cut oak. The vertical grain enhances the authentic character of the oak making it feel like you're bringing the outside in. The thick oak worktop creates a warm contrast against the cool quartz, making the ideal breakfast bar for relaxed family living.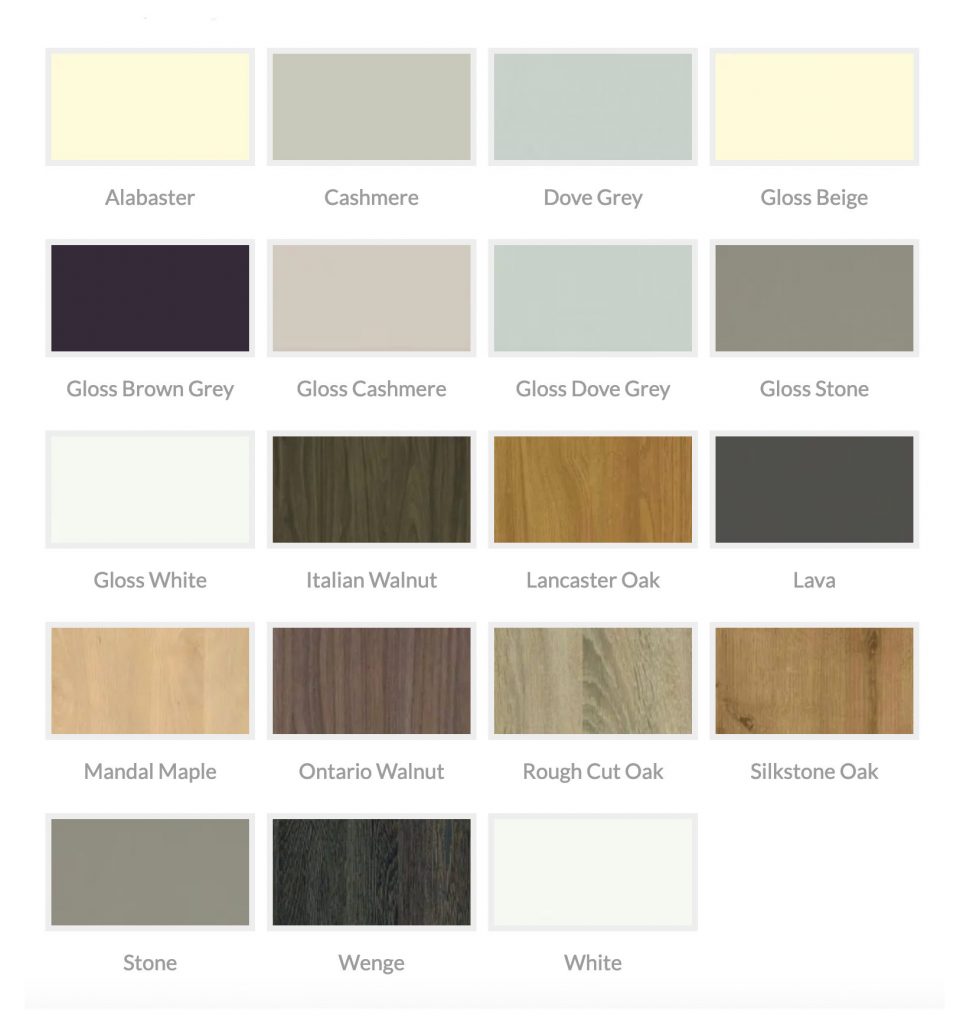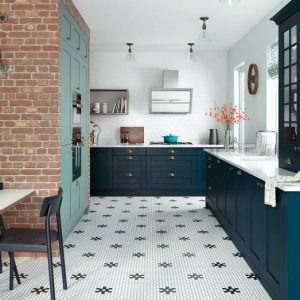 Farnley
X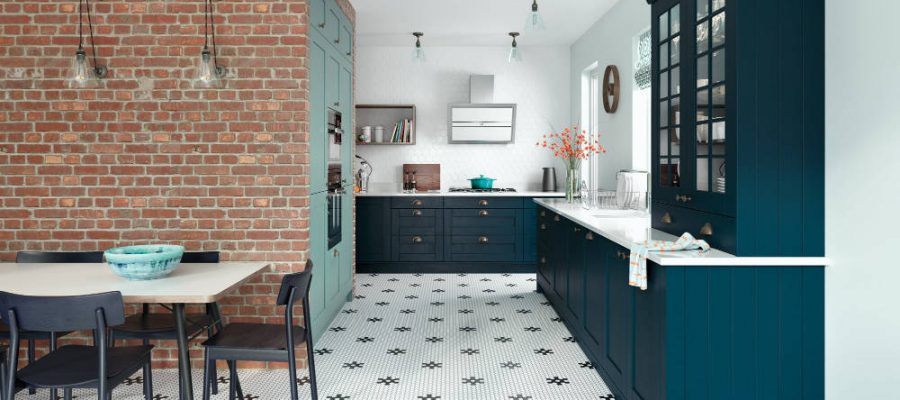 Farnley
The pure and sophisticated clean lines of our Farnley range make this one of our favourites. Classic shaker styling with elegant door proportions make it a timeless style when combined with the hand sprayed paint colour of Mussel. A muted soft tone which combines tone in tone with Dakar, a soft green grey which we used on the island, it also works well with contrasting colours like Charcoal or classic tones such as Porcelain or Mist. The glass wall units have a detailed lattice bead with warm lights inside and soft curves are also available. Try one of our 12 colours or opt for a bespoke colour match for something a little more unique.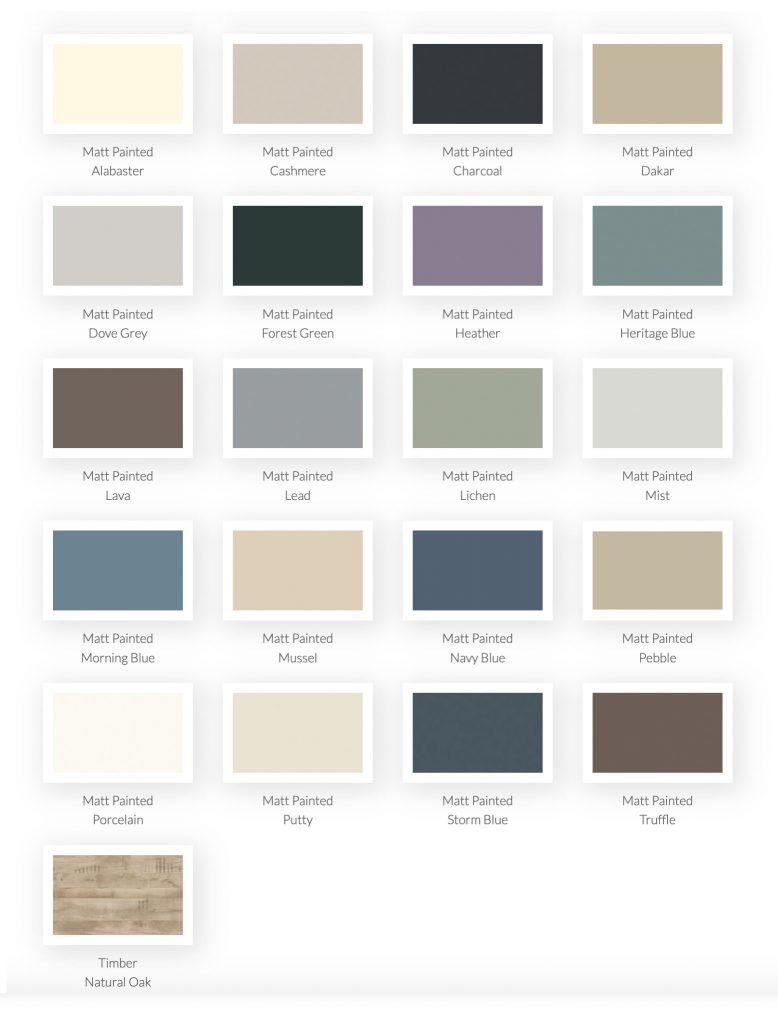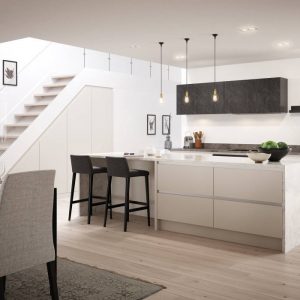 Finsbury
X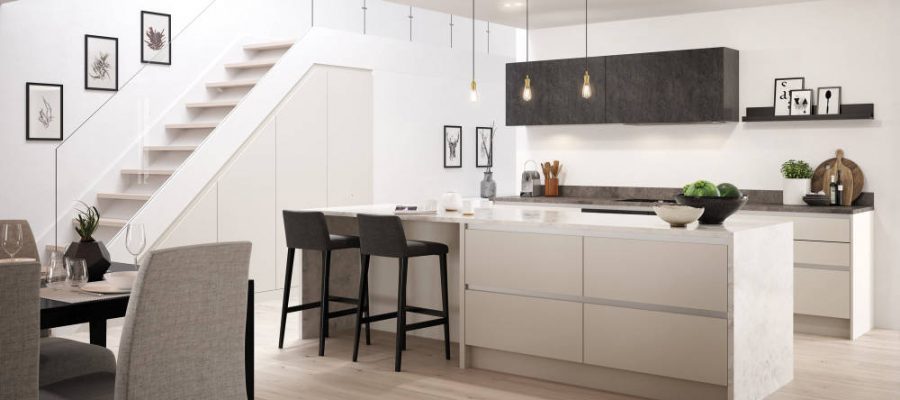 Finsbury
Linear in style, our new Finsbury Collection embodies modern kitchen design by taking a new approach to both material and texture. Now available in two brand new finishes, Silver and Steel, Finsbury makes use of these distinct metal décors to define and sharpen the Mayfair island unit and base cabinets seen in Dove Grey with Aluminium handleless profile. In contrast, the Finbury's wall units are presented in the new Steel finish which helps characterise this contemporary kitchen and subtly identify the preparation and seating area. For a truly consistent look why not expand this theme of furniture into your living room, utility or adjoining hallway? This innovative under-stair storage system with Blonde Wood interior just shows how easy it can be to maximise space and not compromise on quality, style or design.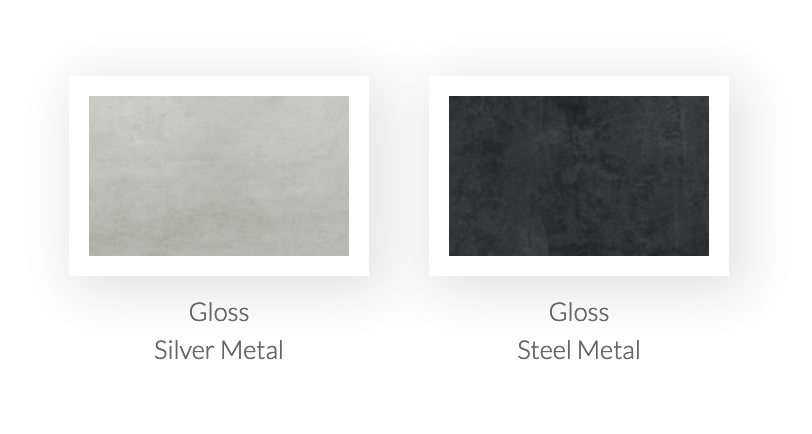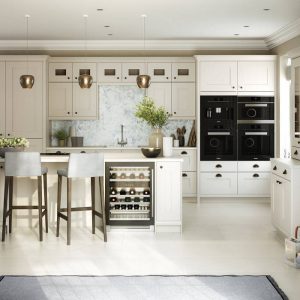 Henley
X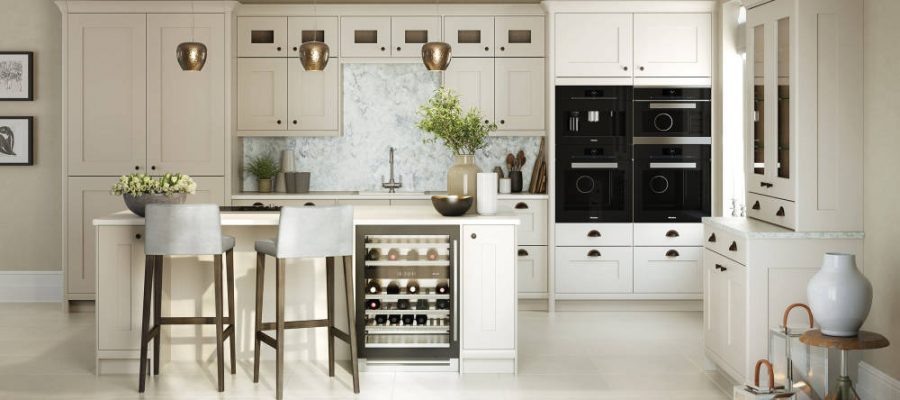 Henley
Introducing our latest kitchen range Henley, a one piece shaker door with a smooth painted finish. We've designed some exquisite new accessories for the Henley kitchen starting with a new top box unit, a flexible option which can be used over a sink or in a row of tall wall units for a stunning feature. Framed end panels with a radiussed front edge create a high end look and the elegant details on the cornice provide a contemporary classic feel. Henley is available in four of our most popular colours including Porcelain, Mist, Mussel and a new grey finish called Pebble.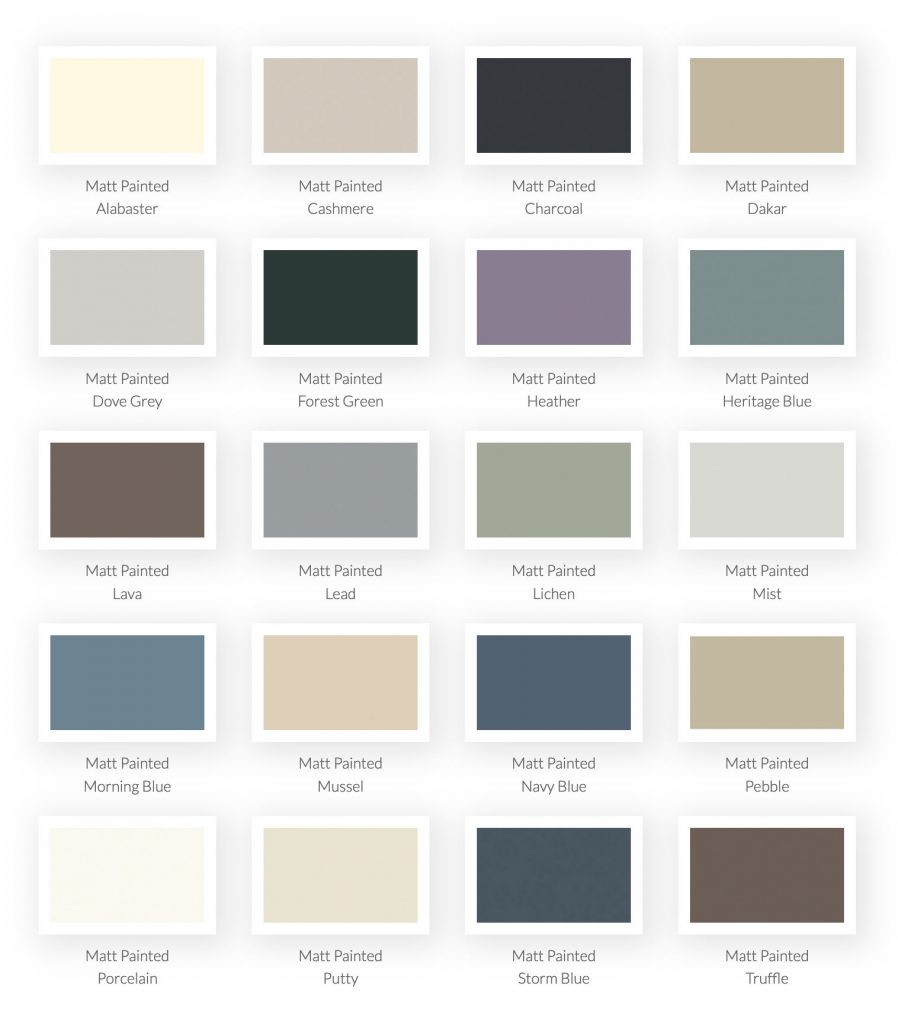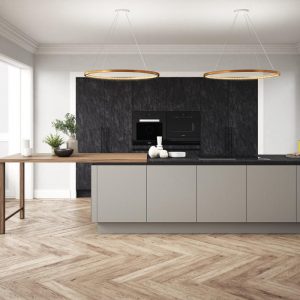 Langham
X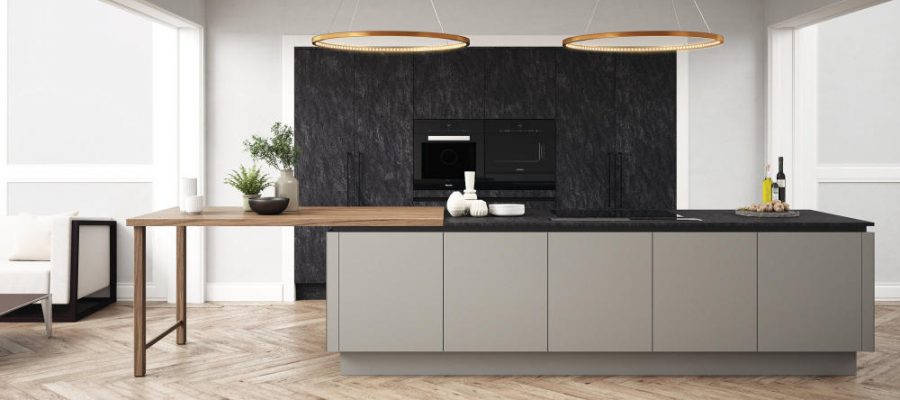 Langham
Contemporary by nature, Langham's urban furniture style is perfect for our new stone décor which gives a premium look and feel with eclectic ideology. Embracing the latest fashion for fifty shades of grey, this stone effect with a laminate finish is available in two colours: Basalt, a light to medium grey tone and Slate, a dark charcoal finish. Our Langham room set sees our new Slate stone finish across a triple wall unit that spans the length of the kitchen. With a host of interior solutions available, Langham features the new contemporary larder stainless steel drawers with innovative glass front and side elements. Plus, for ease of cleaning our stainless steel is finished with an anti-fingerprint treatment for the height of convenience. To balance the overall scheme, the Mayfair island unit is finished in the new Dust Grey to show how different materials and colours can come together and create one cohesive look that works with you.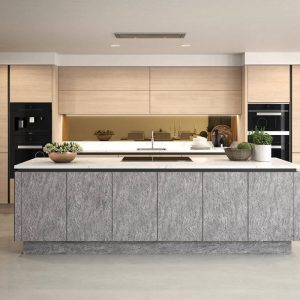 Langham Basalt
X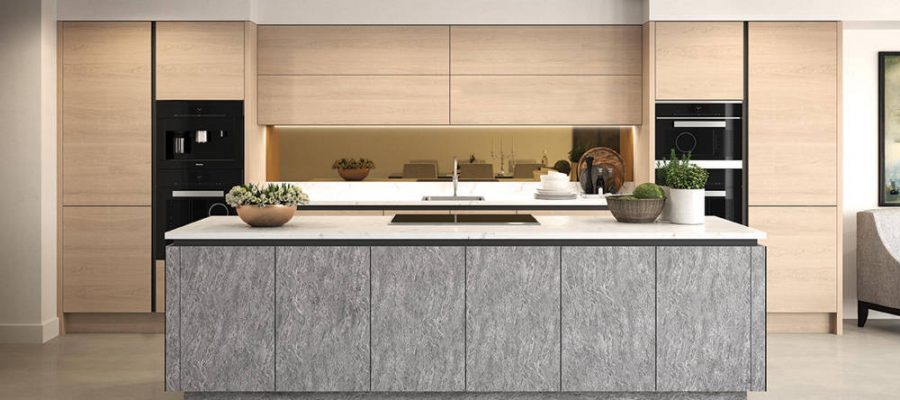 Langham Basalt
Welcoming a contemporary blend of tone and texture, the new Varenna & Langham kitchen is seen here in Blonde Wood with accents of our new Basalt stone finish. Discreet in style yet high in character, this handleless design naturally accentuates the sleek horizontal grain wood furniture to give a pure, unbroken aesthetic. Varenna is made-up of a selection of drawers, tall larder style storage and overhead shelf units, which maximise storage and provide a practical space for you to fit essential appliances. The Langham island unit completes this fresh kitchen look, and its complimentary shade of new light grey Basalt stone adds a modern refinement which is echoed through the white marble worktop and useful interior Legra-box drawer system.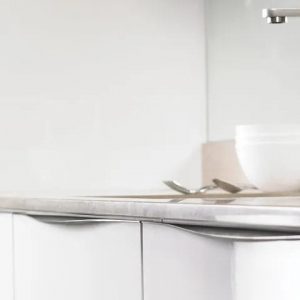 Linea Curve
X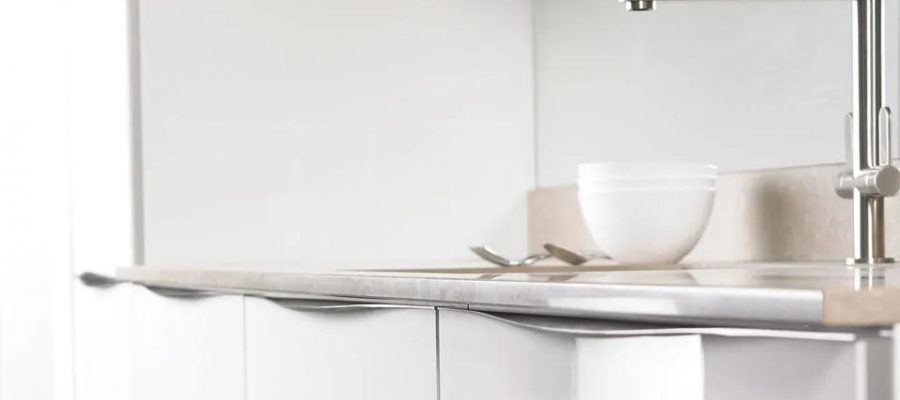 Linea Curve
The curve creates a stunning wave design expressing a dramatic look. Not only do they work from an aesthetic point of view, they are excellent for young children as there are no sharp corners.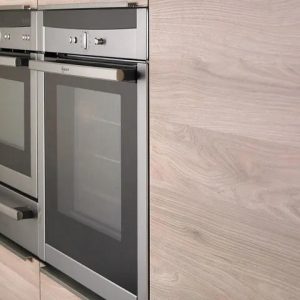 Linea Stone Ash
X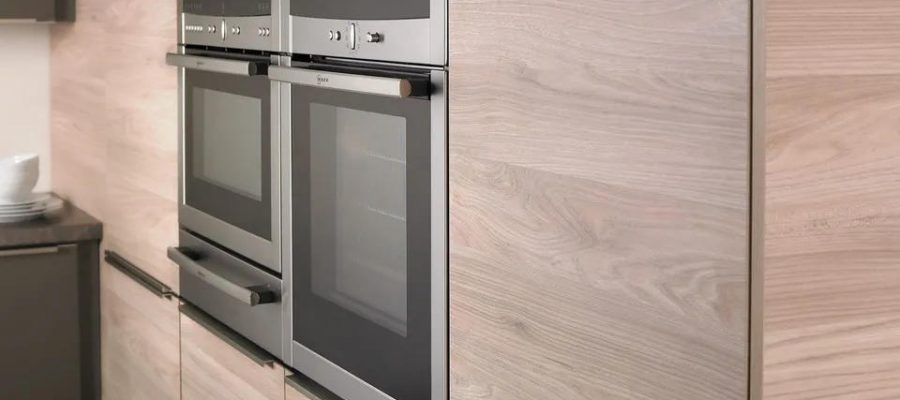 Linea Stone Ash
Our new range of Linear slab doors create angular lines throughout the kitchen yet remain modern and practical. The Stone Ash premium collection shown is a modern classic design with grey undertones. New tall in-line corner solutions make it easy when coming round corners and add a huge amount of accessible storage space to your kitchen. Other features include the Convoy Lavido pull out, which is a premium storage solution which featuring elegant glass sides and adjustable shelves.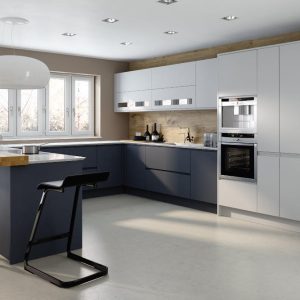 Modena
X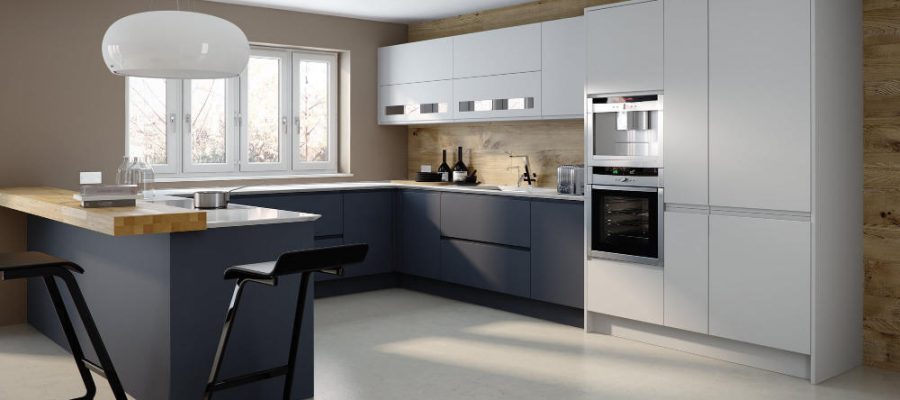 Modena
A pure and relaxed design, Modena is a warm and harmonious design when combined with the grey tones of the Elm wood grain. The J-profile design at the top of the door allows you to have a handless kitchen, with a matching colour detail all the way through the door rather than an aluminium profile. The letter box glass door design with warm interior lights is a nice feature, especially at night creating a warm glow within the kitchen.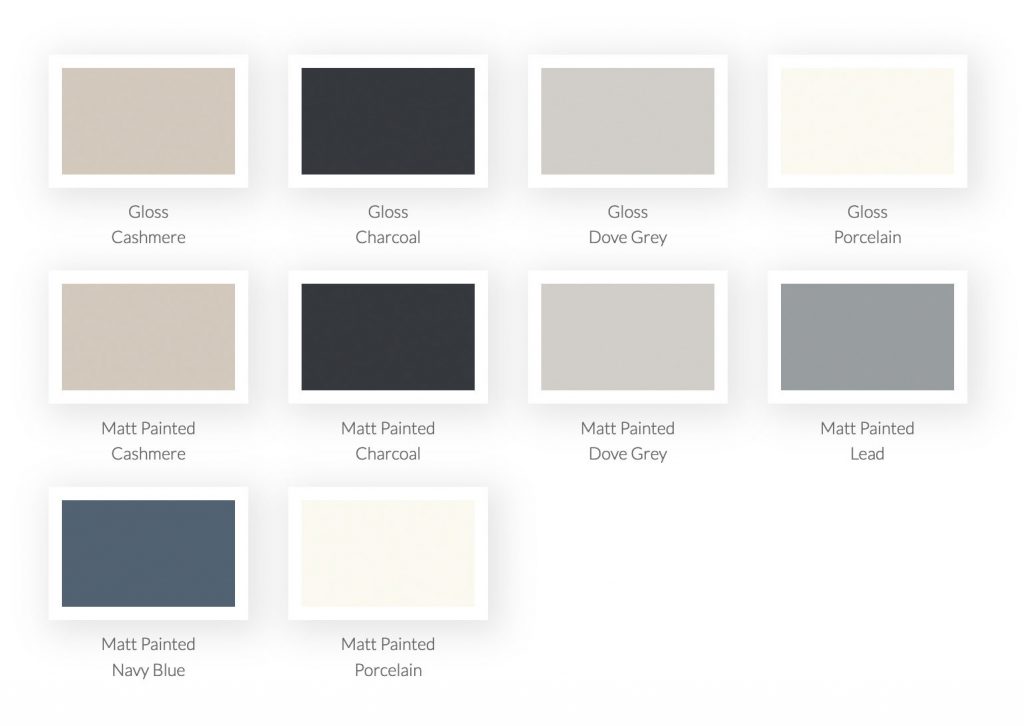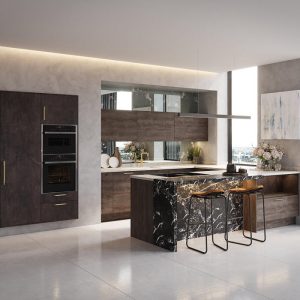 Mayfair & Varenna
X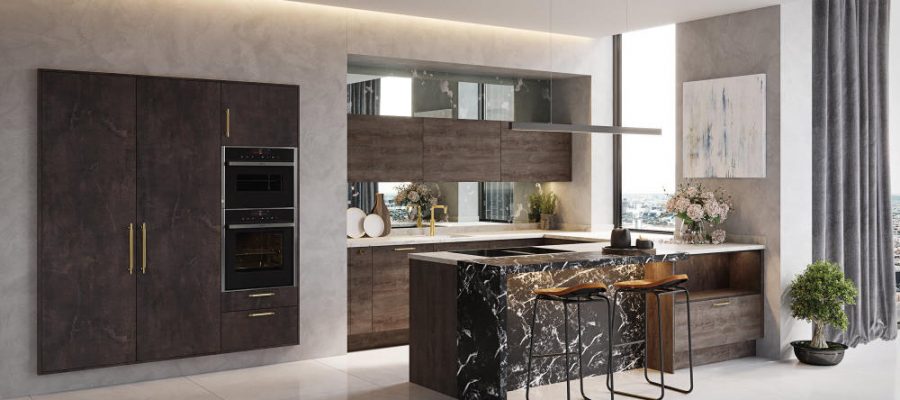 Mayfair & Varenna
The new Varenna in Grey Oak is a paired back synchronised emboss laminate wood grain with a washed stain effect and works perfectly with our new super matt Mayfair range shown in Cashmere. Soft and silky to the touch our Mayfair range is a luxurious new addition to the collection and is available in four colours: of Frost White, Dove Grey, Cashmere and Charcoal. We've designed the base end block so that the handless detail can run around the island allowing the worktop to float above the furniture. We have also included corner protection that adds a nice design detail and protects the furniture against any knocks from day to day life. Darker hues of grey are seen as contemporary and refined so we designed the grey handless profile and the new Legra-box drawer system together creating a premium look. To add that touch of luxury to your kitchen we have included 10mm thick glass on the internal drawer fronts for our popular Space Tower larder.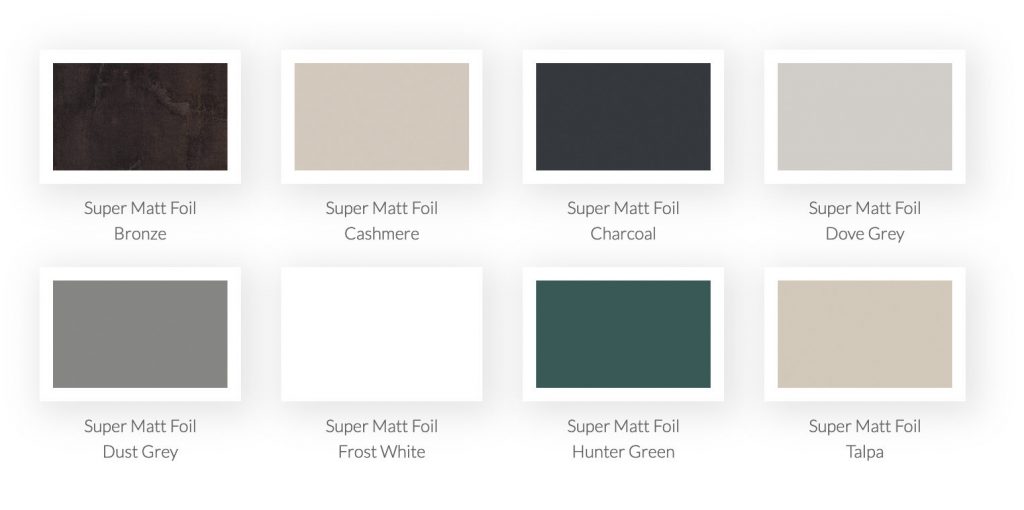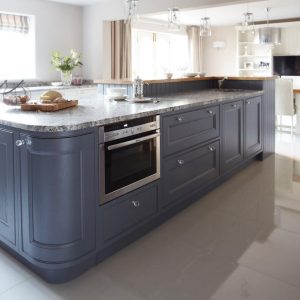 Oakley
X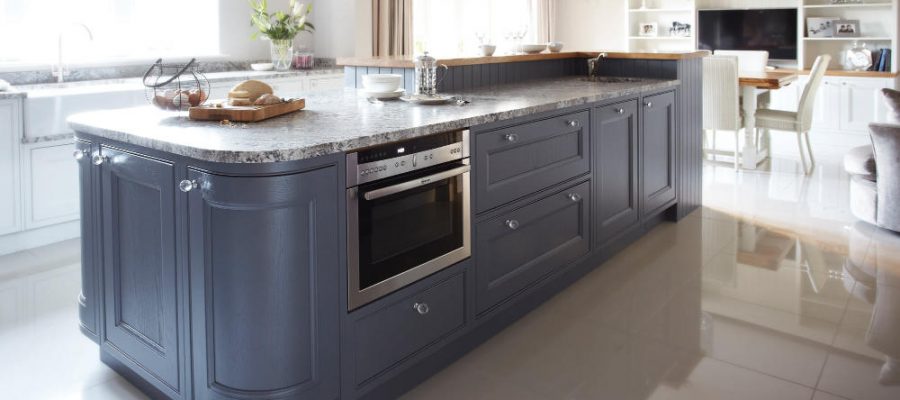 Oakley
Oakley is an elegant in-frame kitchen with British influences at the heart of its design. In addition, handcrafted features such as the solid oak chimney arrangement and our charming angel cornice really set this kitchen apart. Finished with solid oak pull-out trays and pewter knobs, every Oakley kitchen is quite simply a masterpiece – with timeless style that will look great for years to come.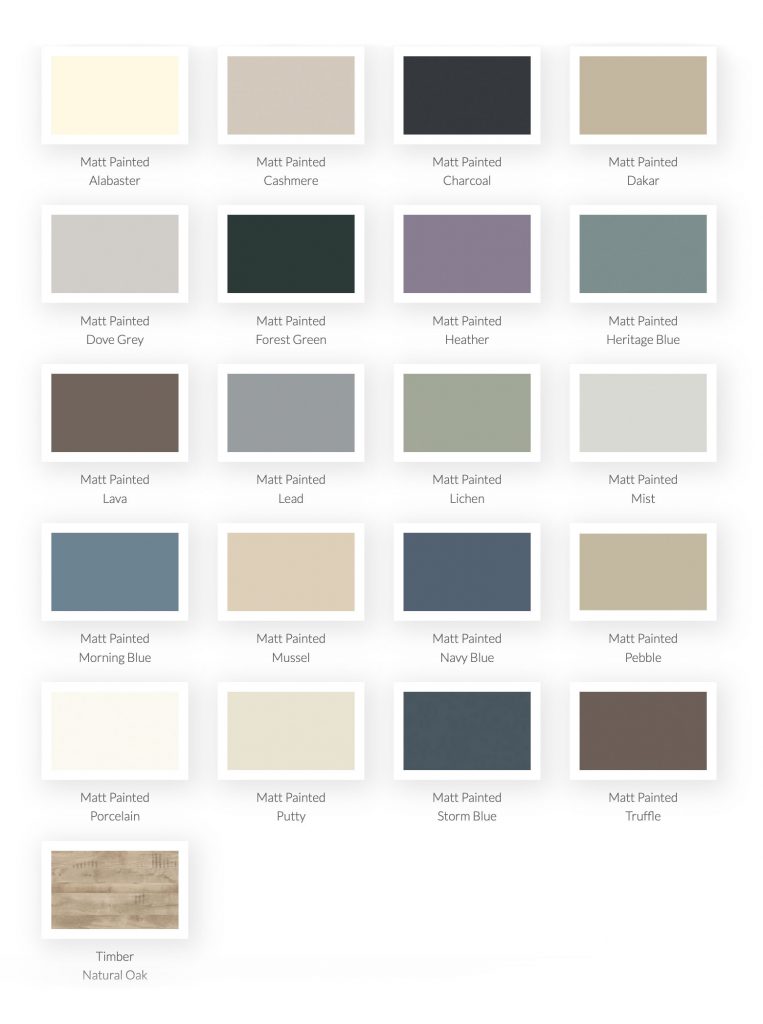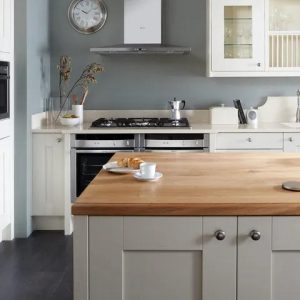 Portland
X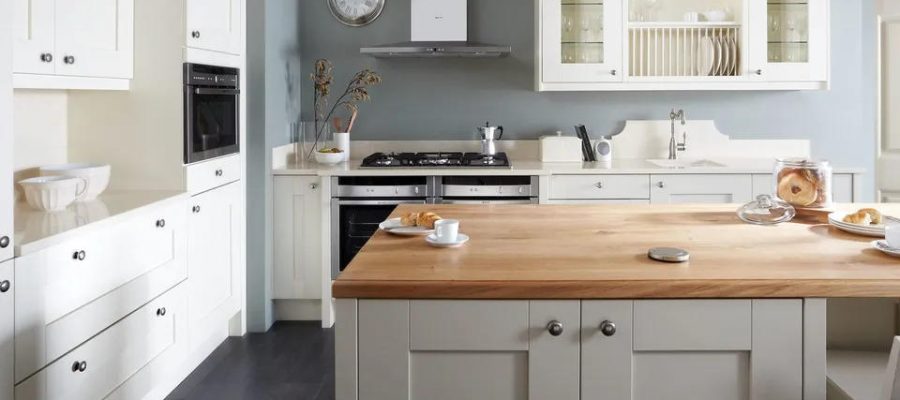 Portland
The contemporary Portland shaker range is a fresh take on a classic painted kitchen. The range has been developed with chunky 115mm stiles and three piece drawer fronts manufactured in paint grade foil, designed to give you the look of a painted kitchen at a more affordable price point. A special cabinet has been developed for the Portland with a matching wood grain emboss to offer a painted effect throughout. Portland is available in White, Alabaster, Mussel and Lancaster Oak, but as the range is manufactured from a paint grade foil, Daval is also offering a bespoke paint to order service so that customers can achieve a look that is more individual and unique to them.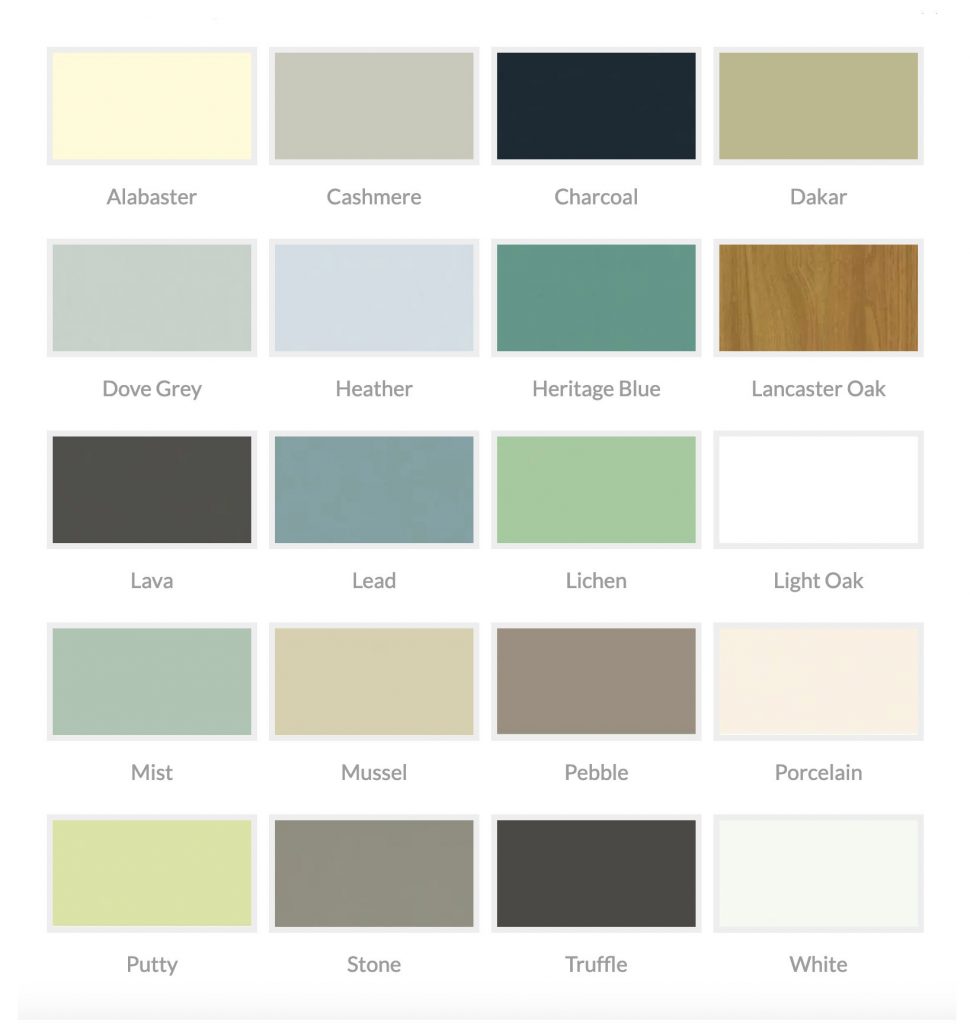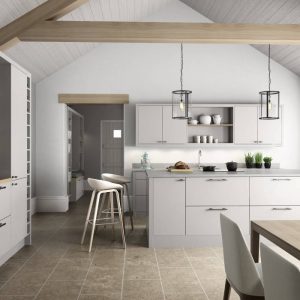 Salcombe
X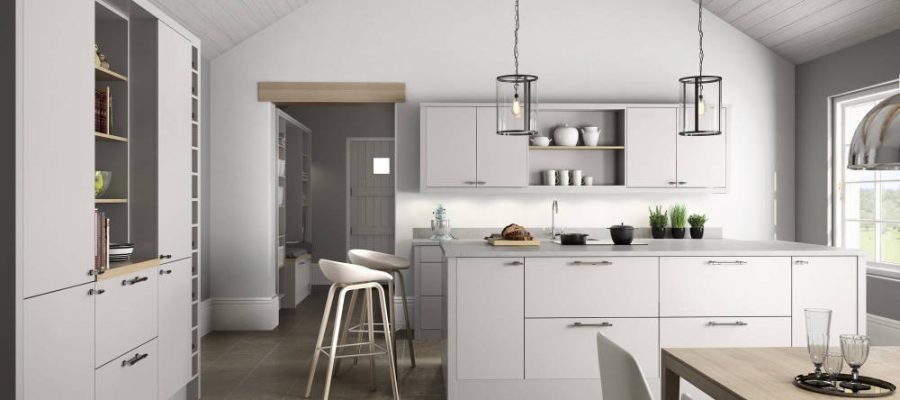 Salcombe
Salcombe is our latest range of furniture creating a new look by combining a painted effect design without having to have the traditional shaker style. Inspired by the British coast line, Salcombe redefines contemporary design with its sleek and minimal yet modern approach. We have created warm colour contrasts by combining Dove Grey and Charcoal with elements of Rough-Cut Oak for contrast and texture. You can also personalise the Salcombe range with a choice of seven different colours and the ability to have it as a lay-on or handless door, and the option of one of our Linea or Linea Curve profile handles. This calm and contemporary style is available fully made to measure and would look fantastic in a city or country environment.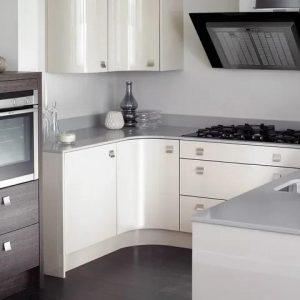 Savoy
X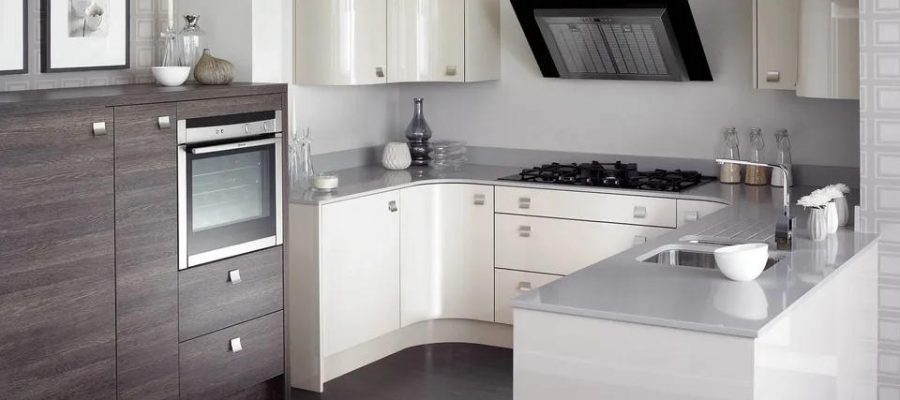 Savoy
A stunning blend of texture and materials combining high gloss lacquer, textured Wenge and 20mm quartz, creates a luxurious and warm living space. The internal and external curves complement the u-shape kitchen layout keeping everything close to hand. Our new corner solution maximises the storage space available and other practical solutions such as large waste bins are perfect for growing families. Savoy epitomises good design and although it has a premium look, it's in fact our most affordable gloss kitchen. We used i-lite in textured Wenge to create a contemporary design statement by framing the mid height units. Try using i-lite as a base end panel or around tall housings for an added value look and feel to your kitchen.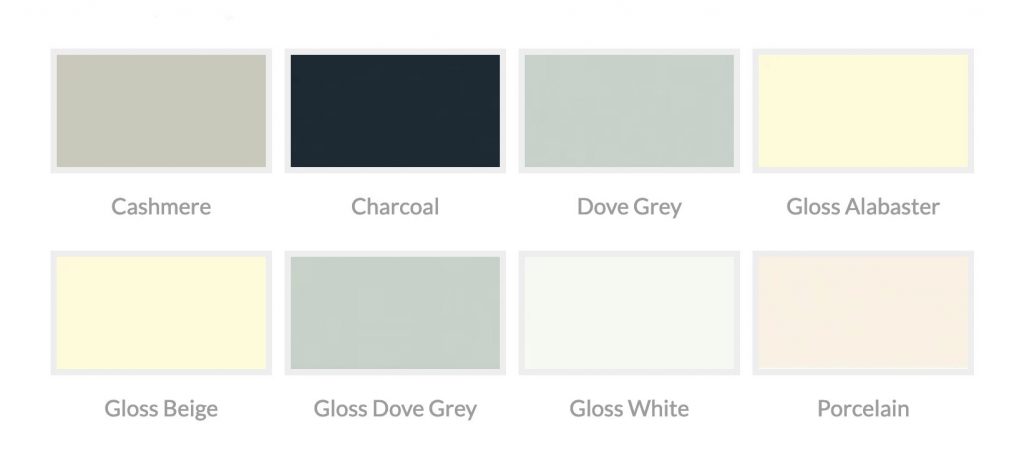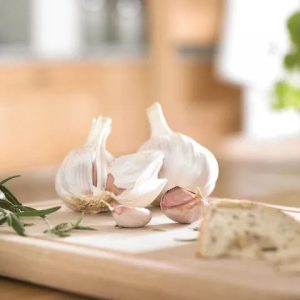 Sherwood
X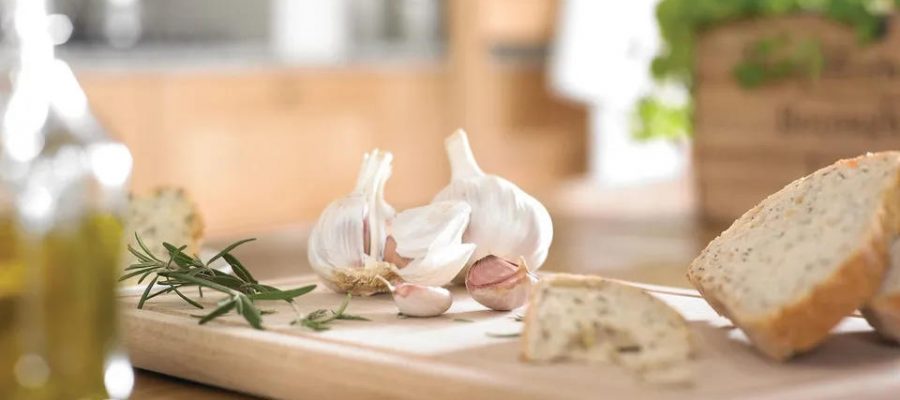 Sherwood
The Sherwood is a true celebration of rustic oak and country styling, Sherwood is a sophisticated and timeless design. Timber selection was once very straight grained and people took out the character of the grain. At Daval we celebrate the idiosyncrasies and love to see the knots, cross fires and beautiful grain detail ensuring that each Sherwood door is unique. We designed this door with large shaker styles with an inside chamfer which complements the timber and is perfectly matched with our new American copper finish knobs. Glass doors with warm lighting look effective at night and other details like curved cabinets add a certain elegance to the design creating a soft entrance into a room. Our magic corner solution makes it easy to access all the available storage space without having to crawl on your hands and knees.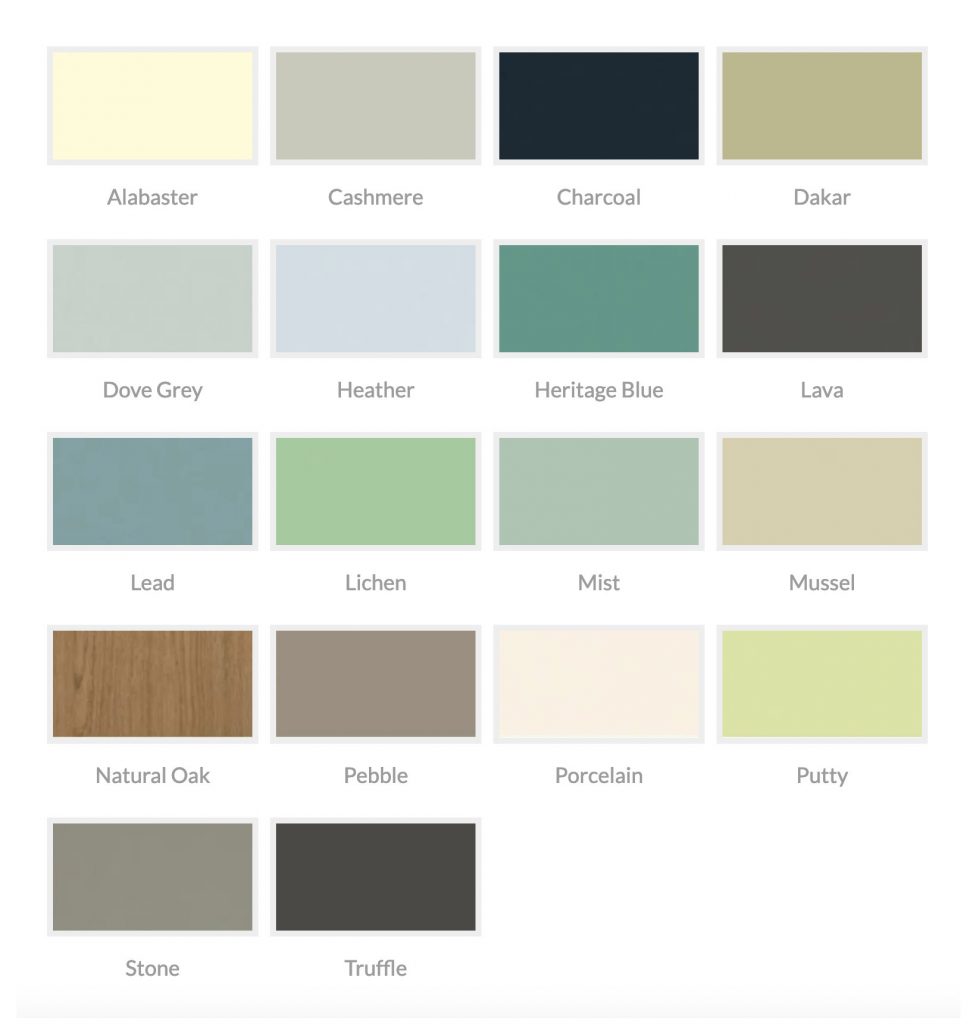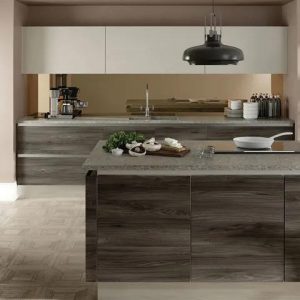 Spa Fields
X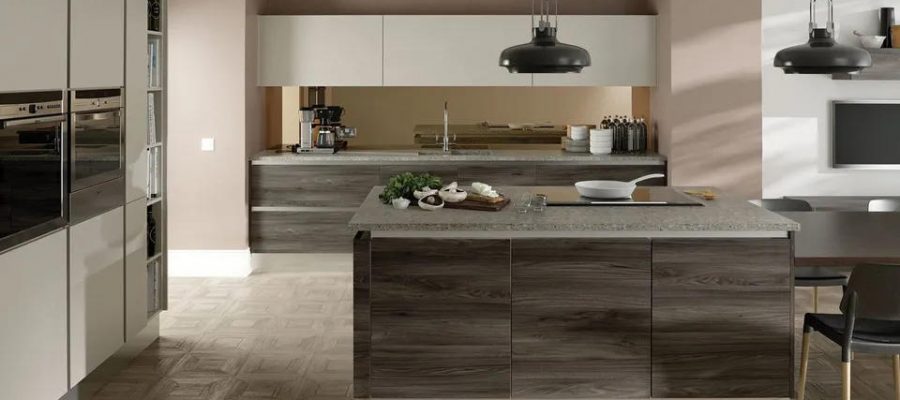 Spa Fields
Spa Fields is a new generation of handless kitchens using the latest synchronised wood grains that are warm to the touch and have a depth of colour and texture never seen before. This layering of texture allows us to create a luxurious pallet of finishes adding warmth to the kitchen living space. We designed the Spa Fields collection with large fascias so you can see more of the door details whilst keeping smooth and clean flowing lines throughout the kitchen. Large fascias are also practical, maximising the available storage space. Available in Elm & Cashmere, or Hemlock Oak & Cashmere this modern kitchen lends itself to quality time with family and friends.
---
"Highly recommended & very efficient. Also excellent customer services"
Carole Coleman
"Fantastic quality! Top notch service"
Sean Ryan
"Fantastic product, excellent value, great customer service. Highly recommended by us"
Isla Stanger
"A lovely family run business that pride themselves on star quality! "
Tawanda Nyambo
"Mirrorspan were a great company to work with. 100% recommend them! We love our bespoke bedroom furniture. Very happy customers."
Anna Singh