Custom Made Bedroom Furniture & Fitted Wardrobes
Relax and unwind in a bedroom designed just for you. Let Mirrorspan create a peaceful haven where you can escape the outside world. Clothes and clutter can make a bedroom feel smaller, but by
designing and fitting bespoke bedroom furniture we can ensure that all your possessions have a home and you have plenty of space to relax. Investing in fitted bedroom furniture is a great way to maximise space.
Whether you want to create a luxurious master suite or a stylish guest room and need bedroom furniture for small rooms or large rooms., we can provide all the storage you need to keep your space organised. And with a wide range of designs to choose from, the only problem will be picking your favourite. Visit our Bedford showroom or Get in touch to start your journey.
Bedroom Styles
Every home is unique. That's why our range of bedroom furniture & custom-made wardrobes includes styles and designs to suit every interior design. From classic Shaker designs to sleek and minimal styles, our furniture set ranges from the traditional to the contemporary, so we are sure you will find a bespoke bedroom design you love. Once you've chosen your style, it's all about storage. Our bedroom designers will work closely with you to incorporate everything you need to keep your bedroom clutter-free. We supply everything from wardrobes, chests of drawers, bedside tables, handles & much more.
When it comes to installing your new furniture, our experienced team will ensure that everything runs smoothly, leaving you to focus on the finishing touches.
Fitted Wardrobes
Because our bespoke bedroom storage is made-to-measure for your home, we can help you make the most of every bit of space. From awkward alcoves to neglected corners, turn wasted
space into stylish and practical storage. We will measure & create custom-made wardrobes that not only suit your design & personality but will also fit perfectly into your bedroom.
To take the first step towards transforming your bedroom, contact us today or visit our Bedford showroom to explore our wide range of bedroom furniture for yourself.
We are based in Bedford but cover areas such as Milton Keynes so when you're ready to get your project underway, book a free home visit to get started.
Contact Us
Call Us
---
Why Mirrorspan
---
Bedroom Design Ideas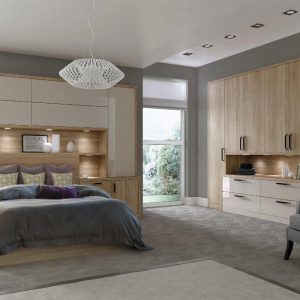 Como
X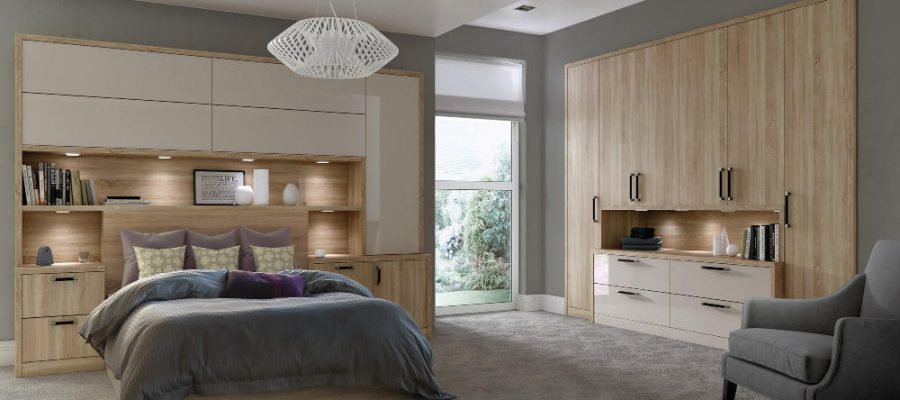 Como
The vertical grain of Como gives an elegant look to this slab modern range and the delicate layering of textures from the structured Ash wood grain, Gloss Stone and leather bar handles, creates a warm look to this contemporary bedroom. Under cabinet LED lighting creates an ambient mood and by using i-lite, the lightweight panel solution, wires and cables are hidden with ease. Even our new iPod docking station can be integrated seamlessly into i-lite opening up a world of new design possibilities. The large bi-folding doors create lots of storage above the bed and are fitted with Servo-drive by Blum. These easy to access units open with a simple touch due to the electric motor so there is no need for handles.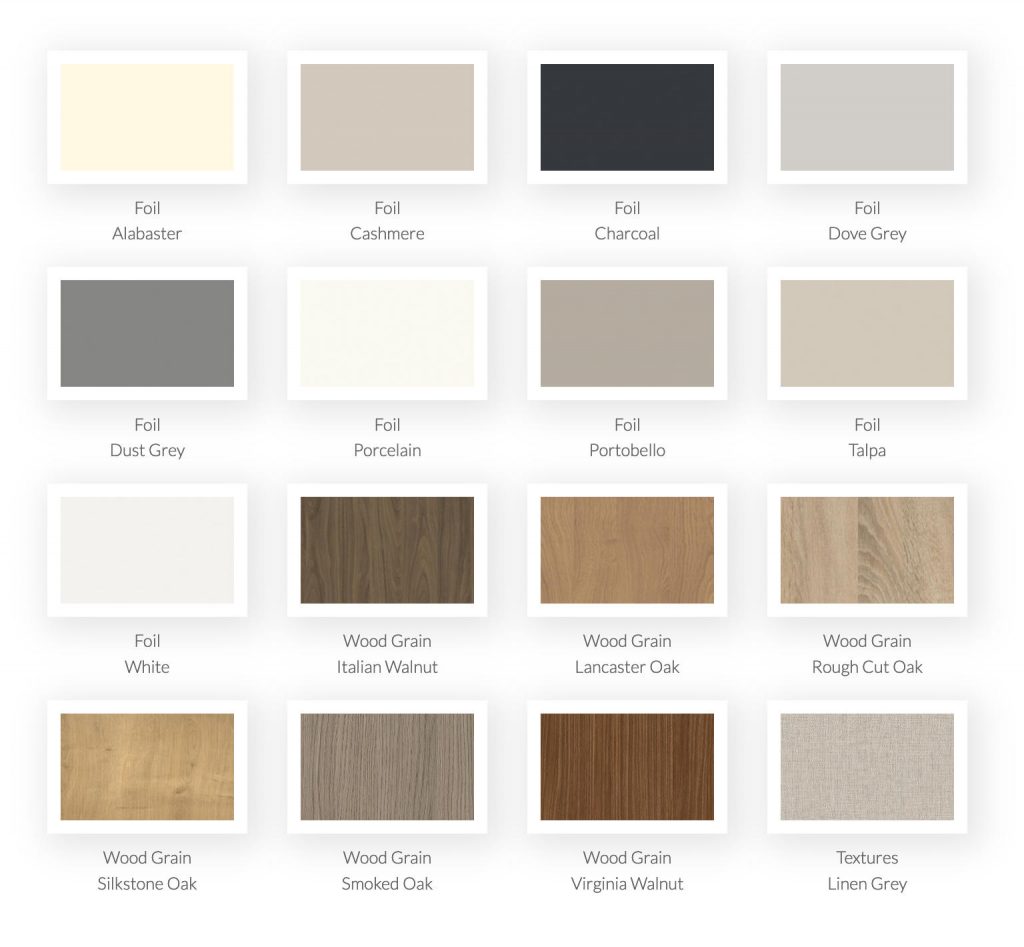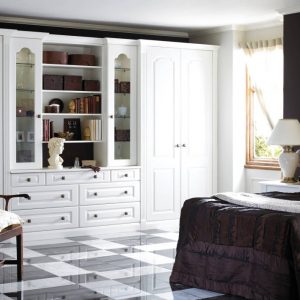 Chardonnay
X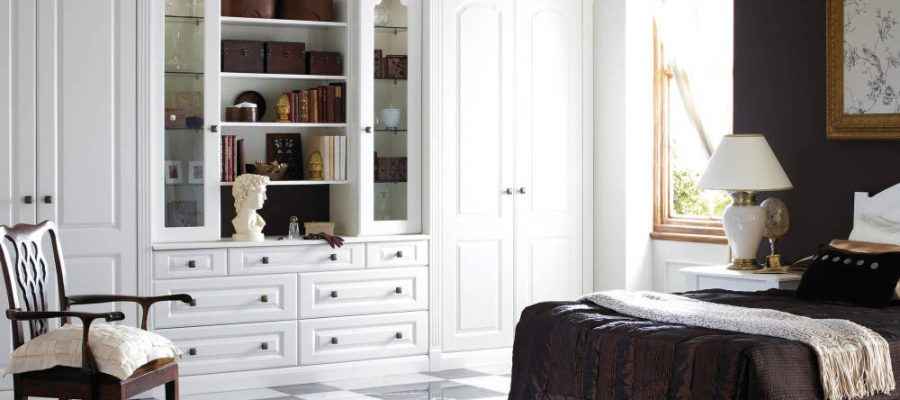 Chardonnay
The Chardonnay design is a detail arched profile above the door and matching fluted pilasters. Here we have created a unique dresser combination including a bookcase and display cabinets with glass shelving. To finish the room we have coordinated the look with a matching Chardonnay headboard and bedside chests.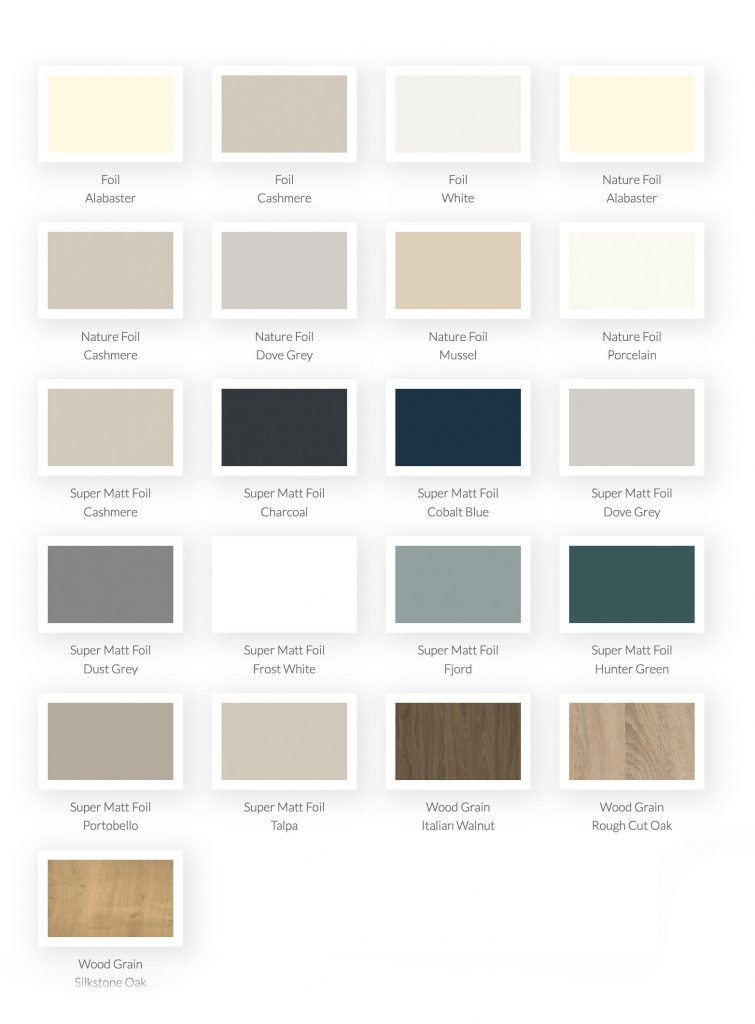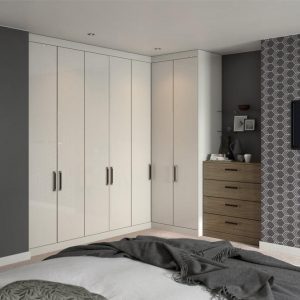 Garda & Rio
X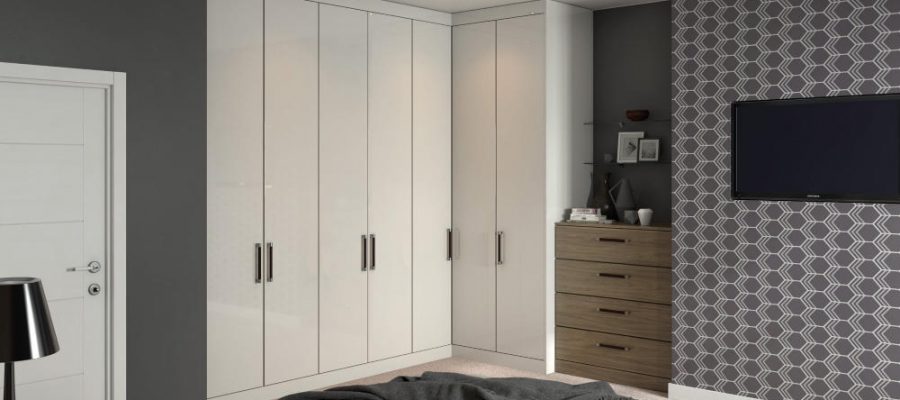 Garda & Rio
The high gloss design allows your bedroom to become bright, airy and adds a touch of luxury when combined with the Rio drawers in Italian Walnut and brown leather bar handles. Available in six different finishes and a duo edge banding detail, the Garda bedroom is a popular choice.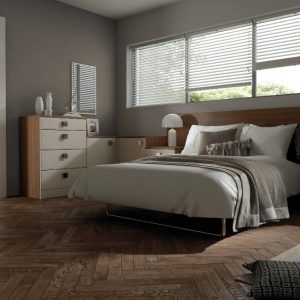 Genoa
X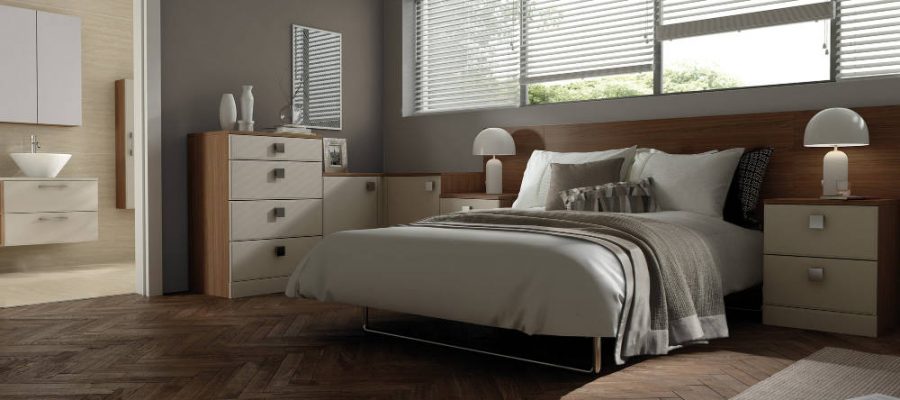 Genoa
A contemporary modular design that looks great in any high end apartment or period home. Shown in Dakar, a soft green / grey tone that creates an elegant yet modern combination with the warm Ontario Walnut. A combination of high line and low line units form a comfortable bed area and the linen bin corner solution is a handy space saver for clothes, bedding or towels. If you love shoes then the pull out shoe shelf is a must, simply ask your designer for a host of new interior storage ideas.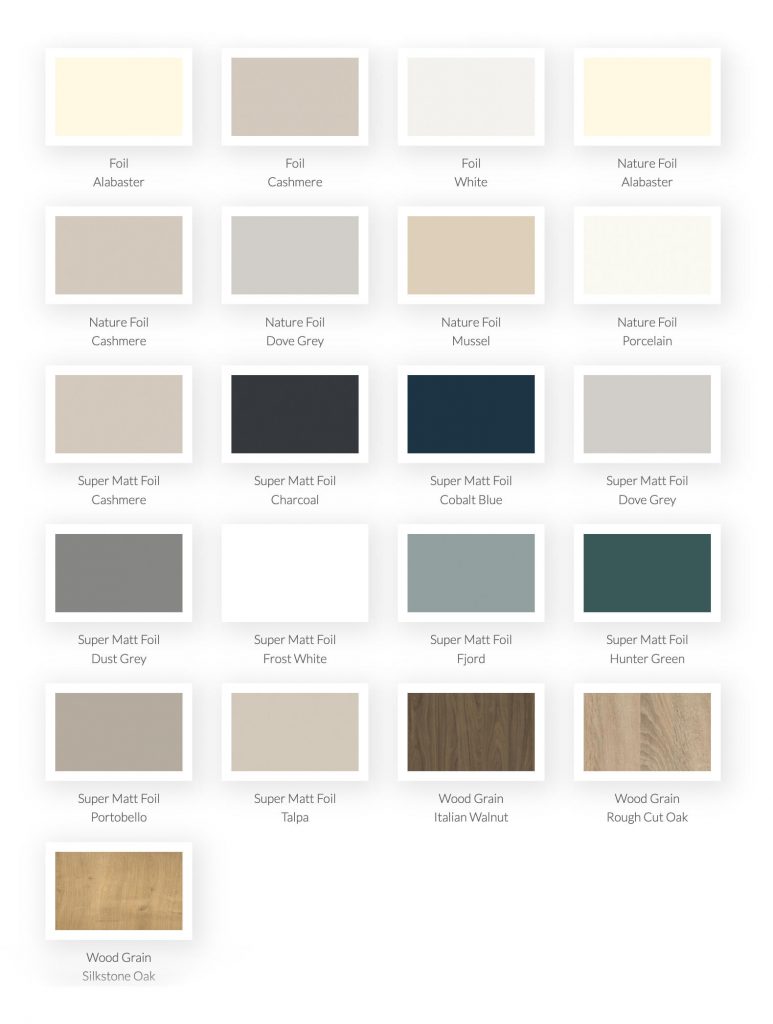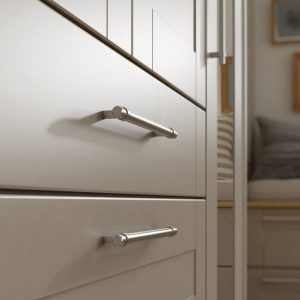 Harvard
X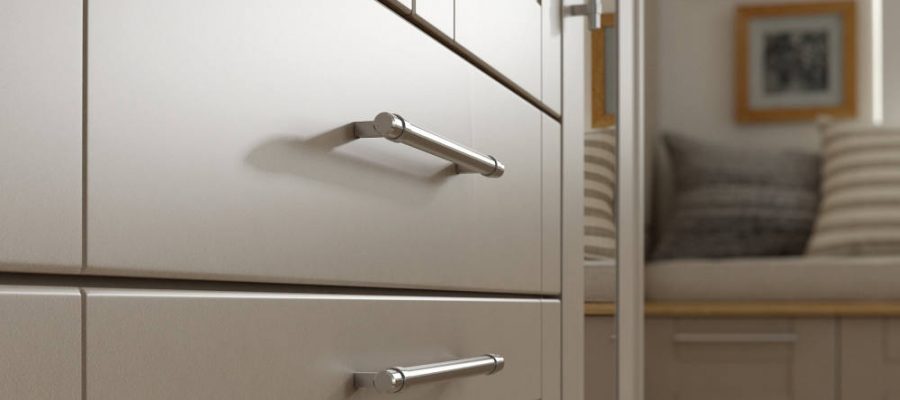 Harvard
A simple clean shaker design shown in a warm Stone Grey hue. Full length mirrors are perfect for helping to get ready on a night out and the drawers under the window make a comfortable window seat. Angled end wardrobes are ideally placed near doors to create a smooth flow when entering the room and are great for storing shoes and jumpers.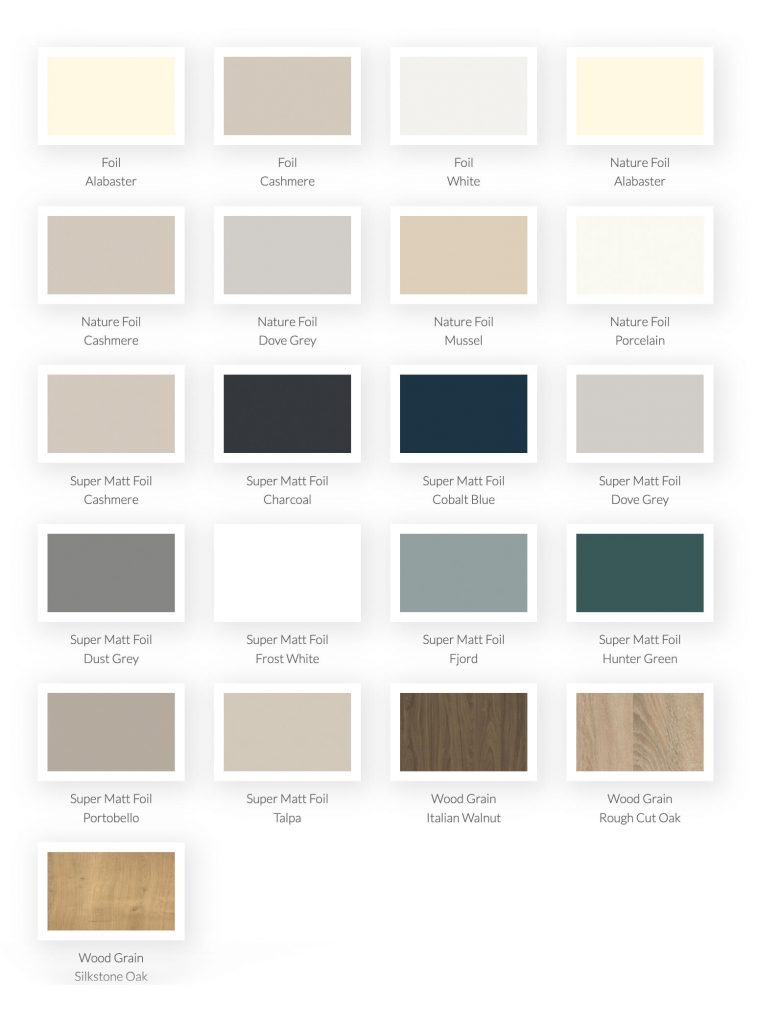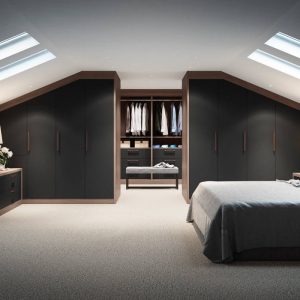 Mayfair
X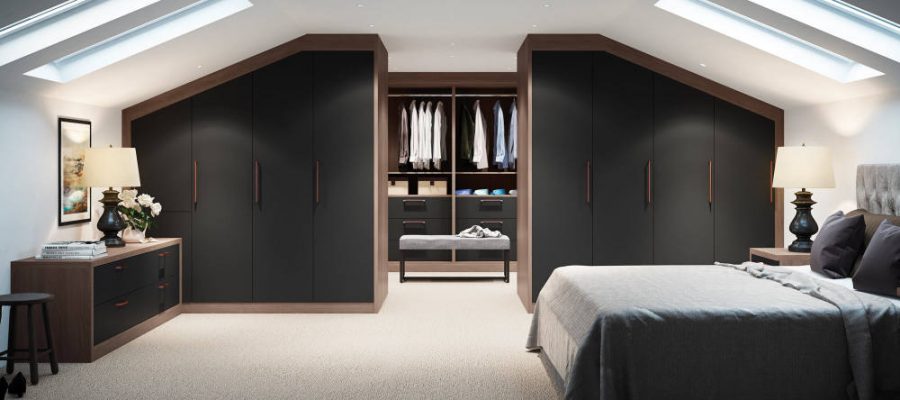 Mayfair
Just like a bespoke suit or a tailored shirt our made to measure bedroom furniture can fit your home perfectly while maximising your storage. Mayfair is a luxurious new addition to the collection and is available in four colours of Frost White, Dove Grey, Cashmere and Charcoal.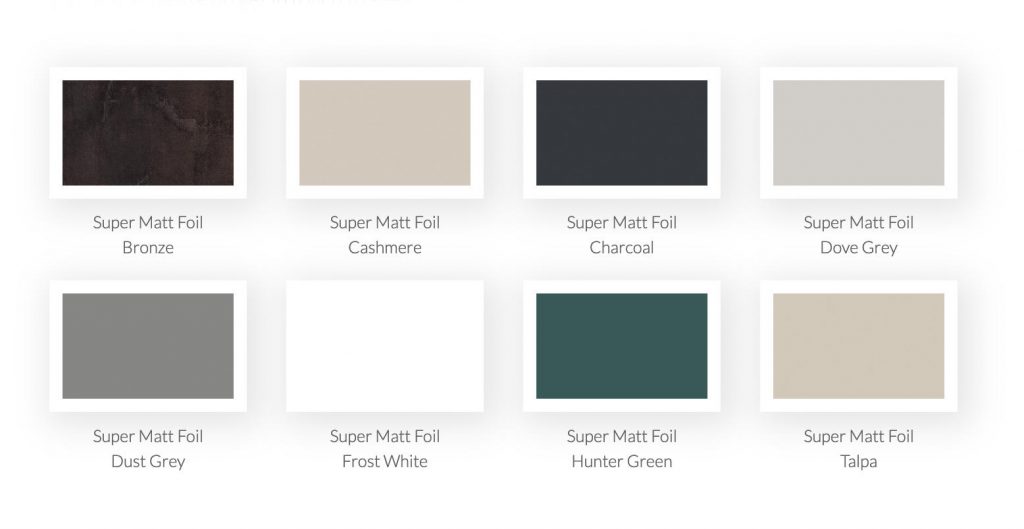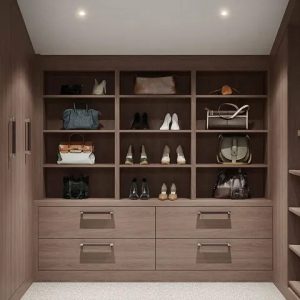 Mayfair and Varenna
X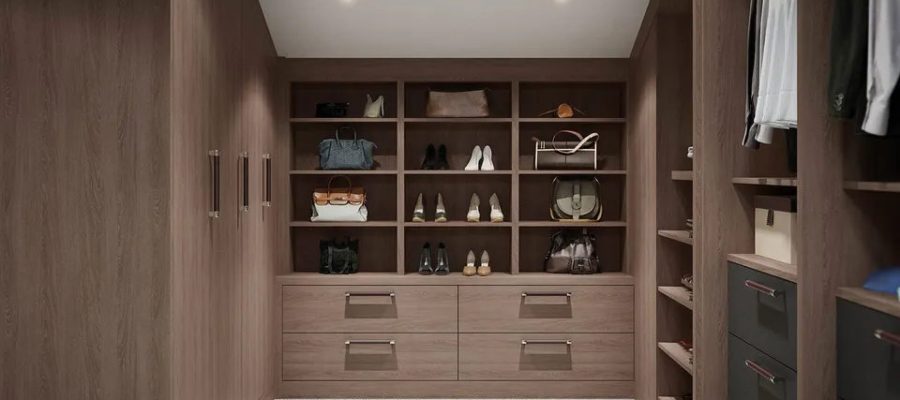 Mayfair and Varenna
Just like a bespoke suit or a tailored shirt our made to measure bedroom furniture can fit your home perfectly while maximising your storage. Whether it's angled ceilings or walk in dressing rooms our made to order furniture allows you to design the room of your dreams. The new Grey Oak finish for the Varenna range is a paired back sophisticated wood grain with a washed stain effect and works perfectly with our new Mayfair range, shown in super matt Charcoal. Soft and silky to the touch, Mayfair is a luxurious new addition to the collection and is available in four colours: Frost White, Dove Grey, Cashmere and Charcoal.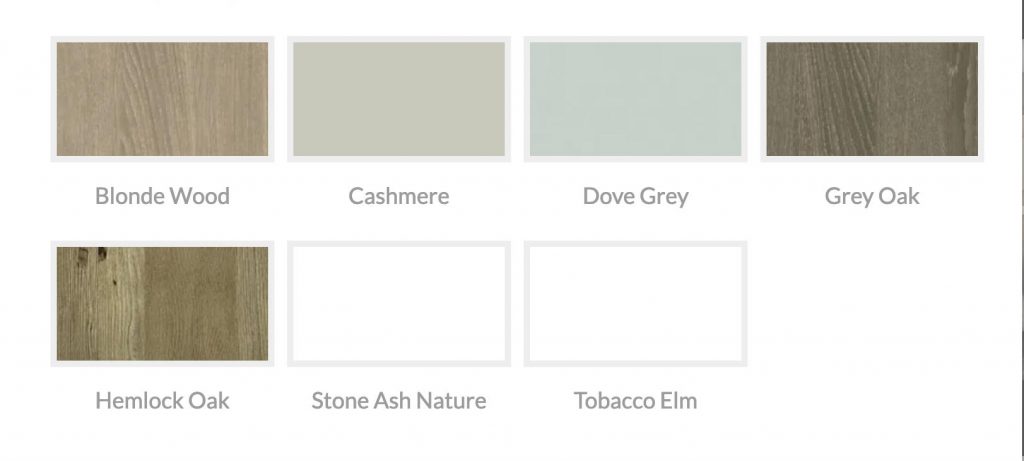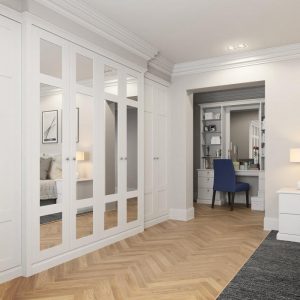 Newlands
X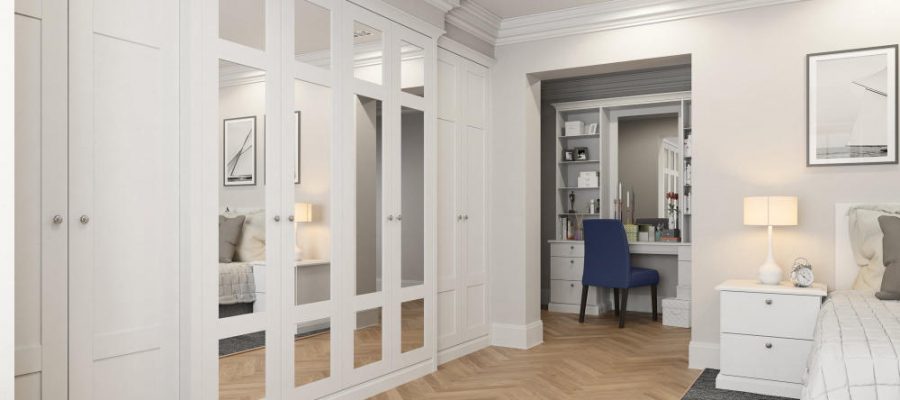 Newlands
Inspired by the original shaker movement, Newlands is defined by its two cross rails on the wardrobe door and is shown in our Porcelain nature finish. The shaker door and slab drawer combination ensures the design has modern classic proportions and is teamed with a traditional plinth profile and matching worktop detail. Finished with our chrome knobs made in Birmingham and a premium Porcelain nature cabinet that creates a high end look.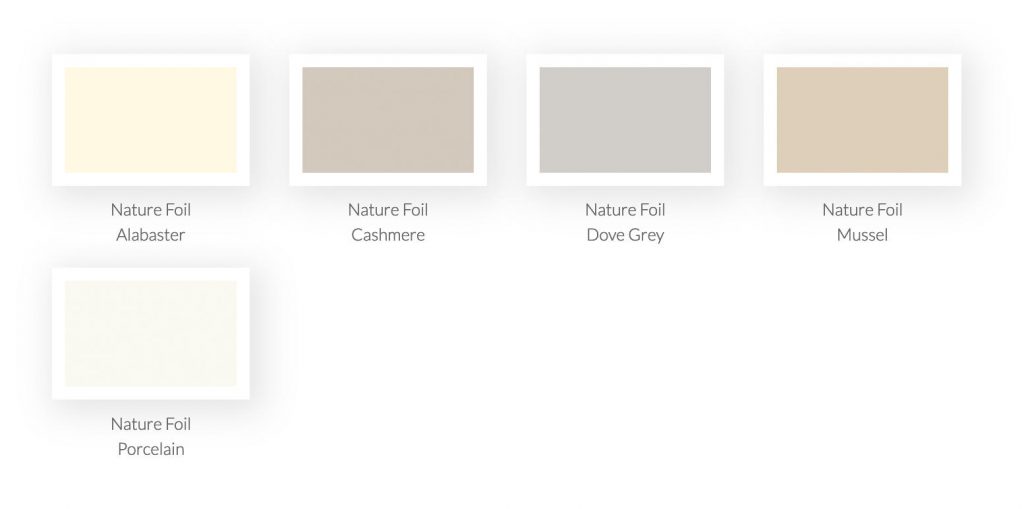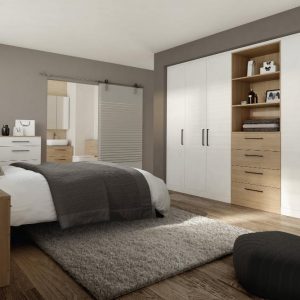 Roma
X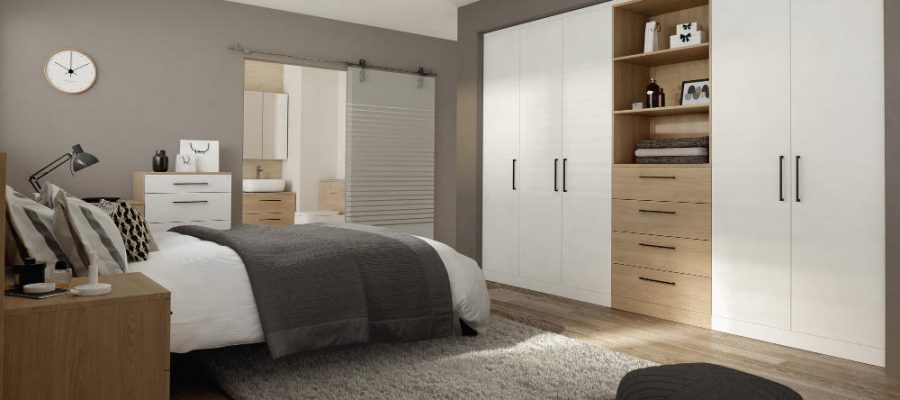 Roma
Roma is a clean and versatile slab door which looks comfortable in any home. Contemporary wardrobes fit flush to the ceiling to maximise the storage space available leaving a clean finish. The textured Wenge creates a warm and tactile combination with matt touch Stone for a premium and exclusive appeal. Ask your designer about our range of wardrobe interior pull outs to maximise the storage potential in your bedroom.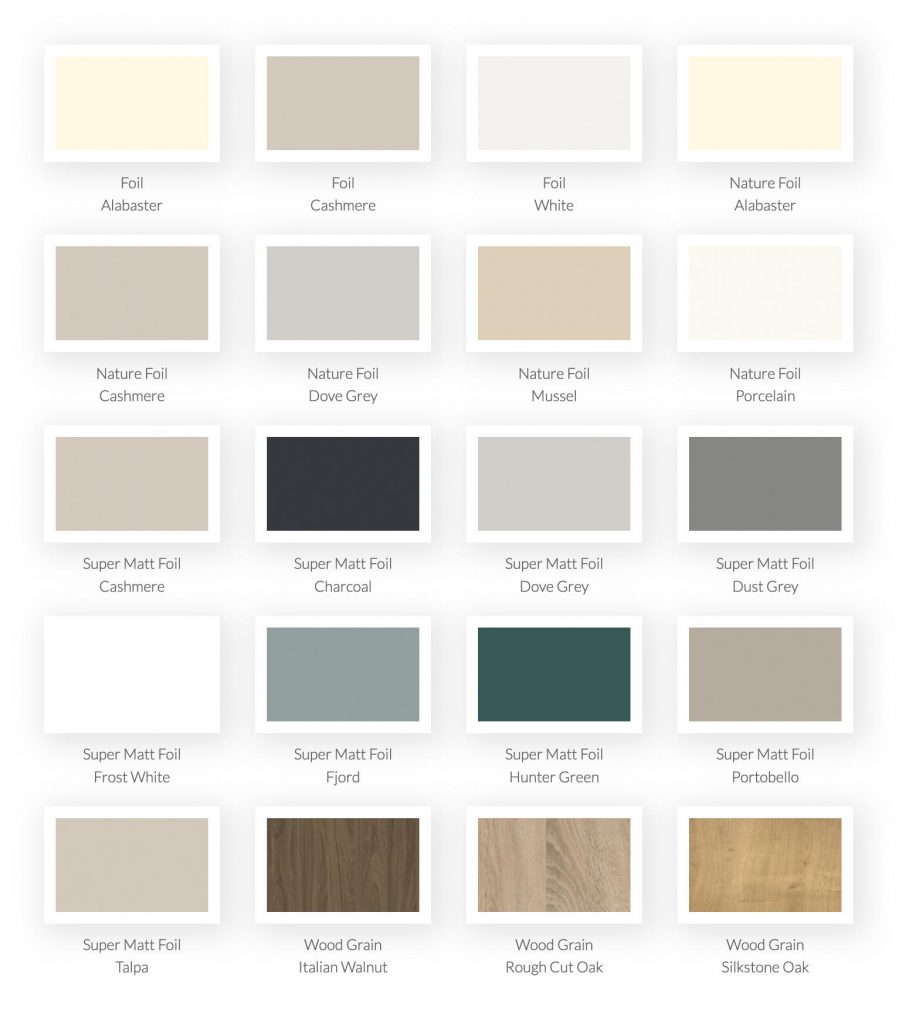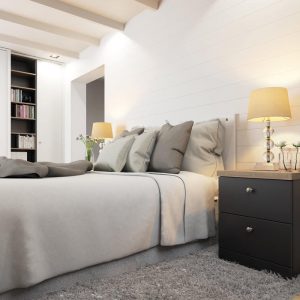 Salcombe
X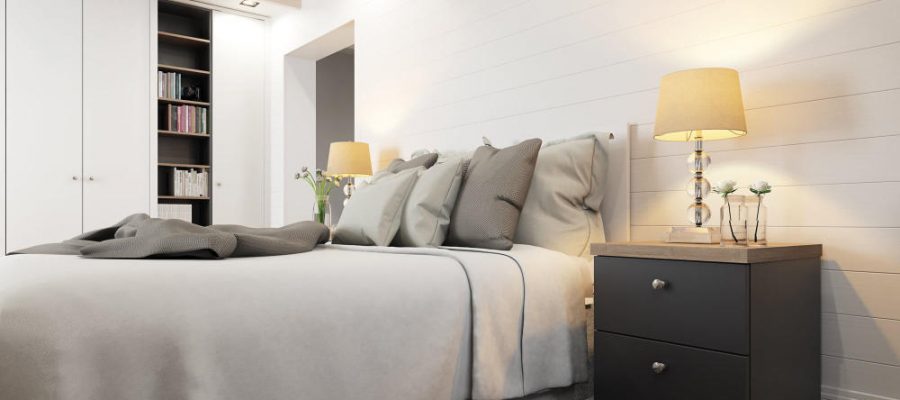 Salcombe
Inspired by the British coast line, Salcombe redefines contemporary design with its sleek and minimal yet modern approach. We wanted to combine the best of a painted effect design with the contemporary aesthetics of a slab door to allow you to create a warm and homely feeling in your bedroom. Shown in the calming and contemporary tone of Dove Grey we have contrasted this with bedside cabinets and bookcases in Charcoal and used Rough Cut Oak shelving detail and chunky i-lite worktops.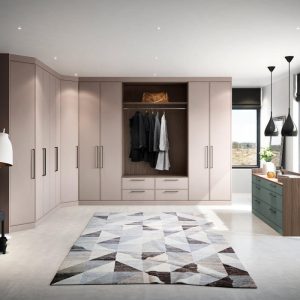 Soho
X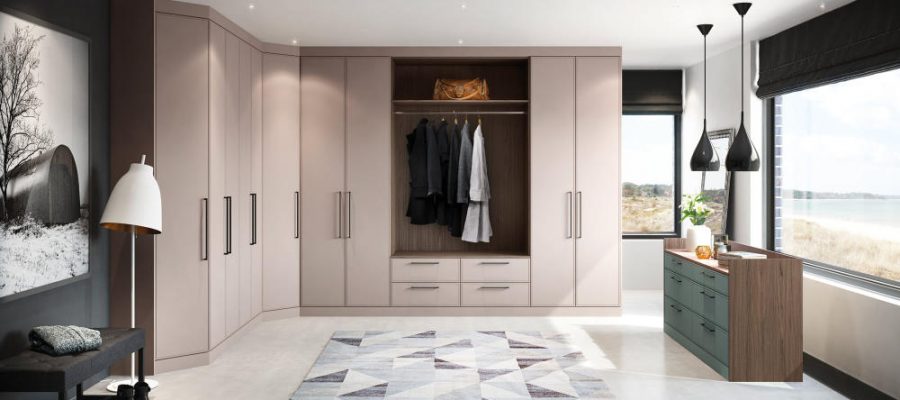 Soho
As the name suggests, Soho is a fusion of design styles by combining a slab door design with a contemporary in-frame effect detail which picks up on the new furniture trend for slim and sleek. Matt black bar handles complement the door design and add a nice detail against the Stone doors and Italian Walnut interior. We love our new Fjord finish which has been used on the drawers, a rich Blue tone creating a pop of colour in your bedroom while complementing the calming pallet of Grey. By using an infill to the ceiling which is the same height as your plinth we can create a look which has vertical symmetry and ensures that no valuable space is wasted.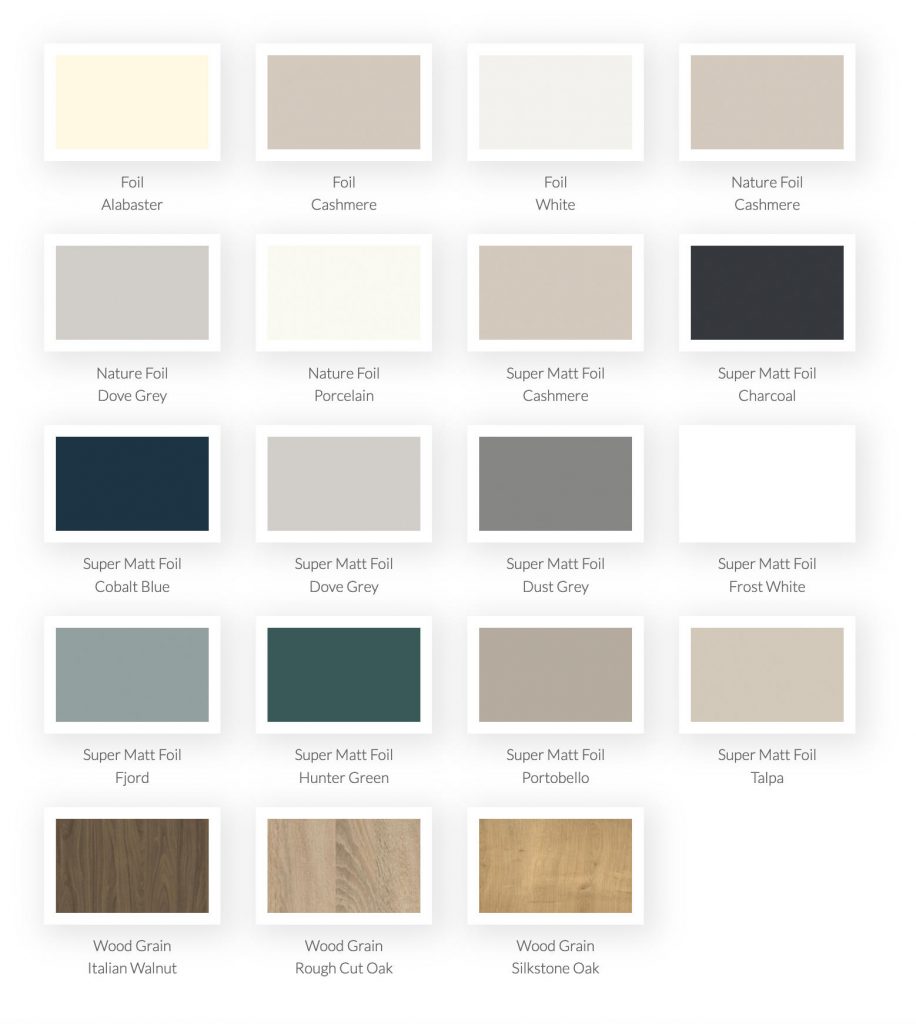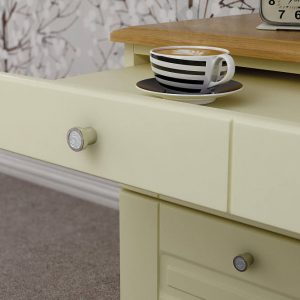 Springfield
X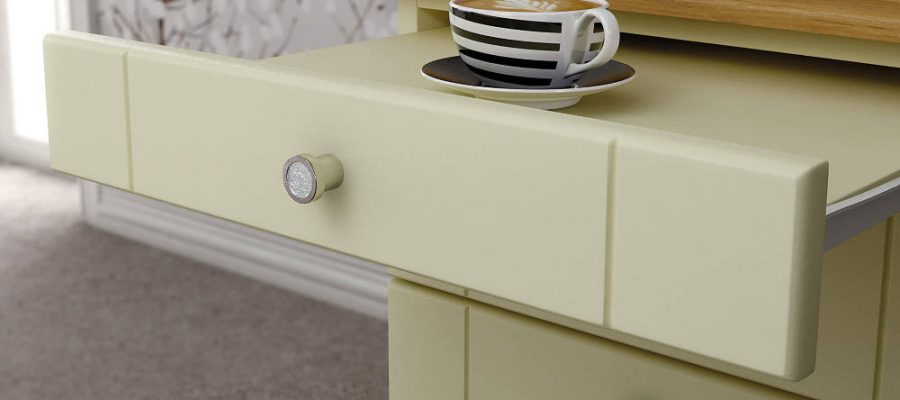 Springfield
Springfield is a classic shaker style door with a premium look at an affordable price. Shown in Alabaster, a matt touch finish with a fresh and clean pallet combined with glitzy handles that add a touch of glamour to your boudoir. The bedside chest with a pull out tea tray adds extra storage when space is tight, perfect for your morning tea in bed.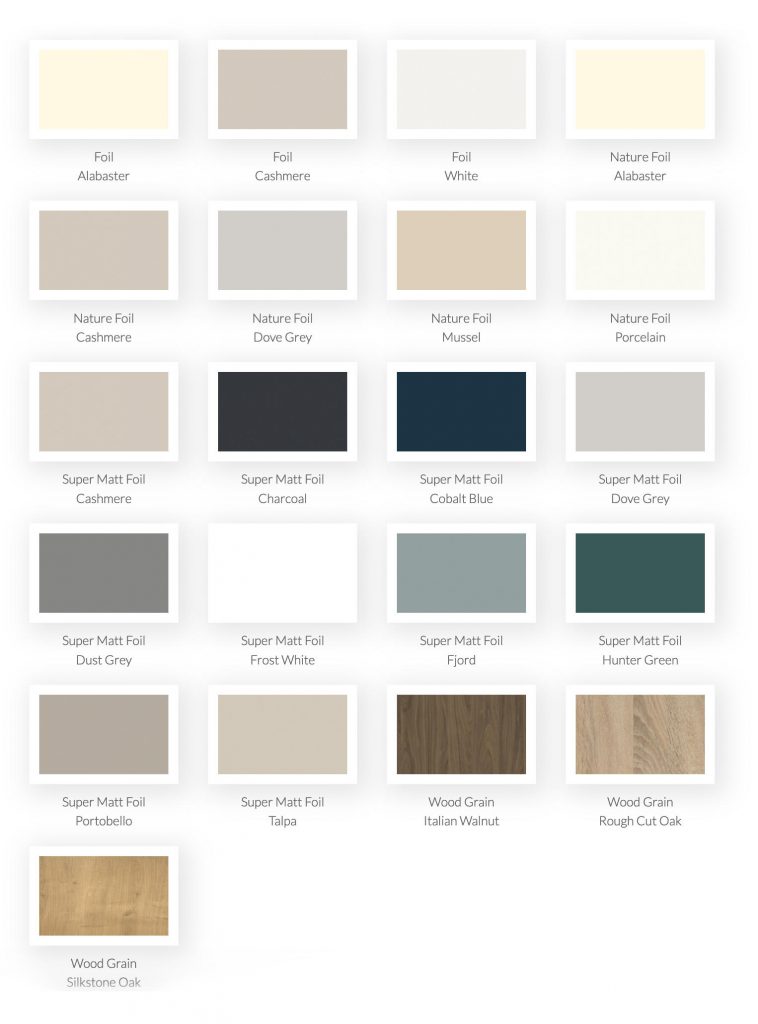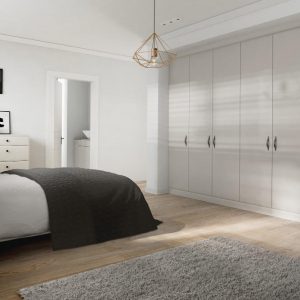 Vienna
X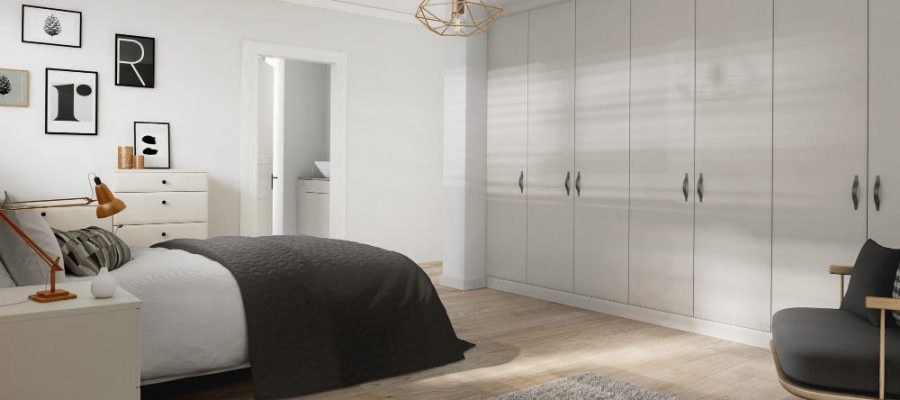 Vienna
An elegant design with soft chamfered edges, Vienna is a modern and appealing bedroom. The chamfered details flow throughout the design with a matching ceiling up stand, plinth and bespoke worktop design. Luxurious details such as the super matt cashmere and American copper handles set this design apart.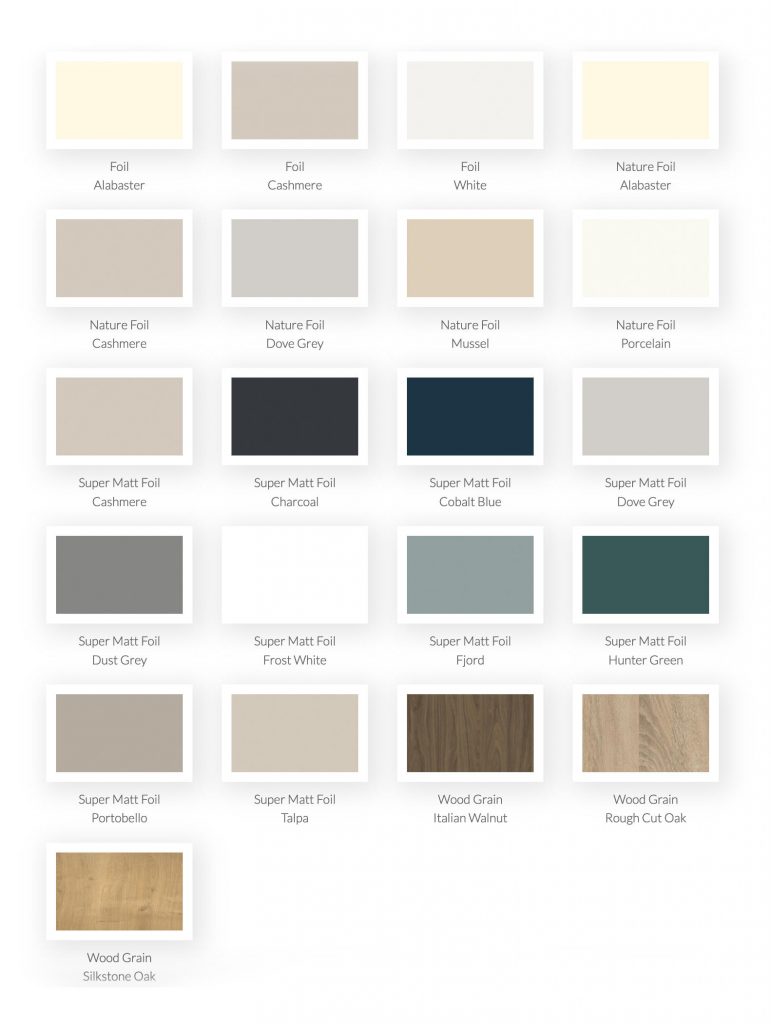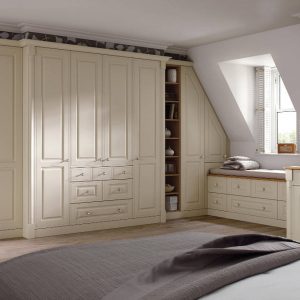 Windsor
X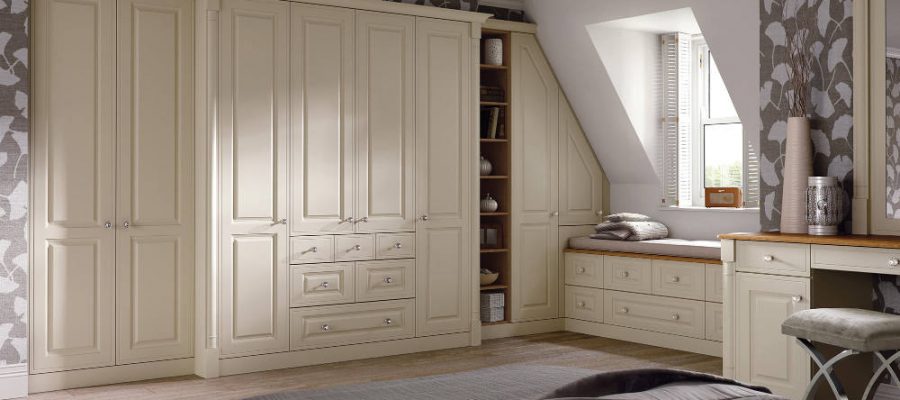 Windsor
A modern day classic design, Windsor is an in-frame effect range with British craftsmanship and attention to detail. Shown in Alabaster, a clean and light finish that provides a flexible pallet for you to combine your own ideas. Angled wardrobes maximise the potential space within your bedroom and hand cut lead crystal handles complete the look. The comfortable and sumptuous stool in textured Pearl is a must have for any dressing table and the new link drawer height provides the maximum amount of knee space without compromising on storage.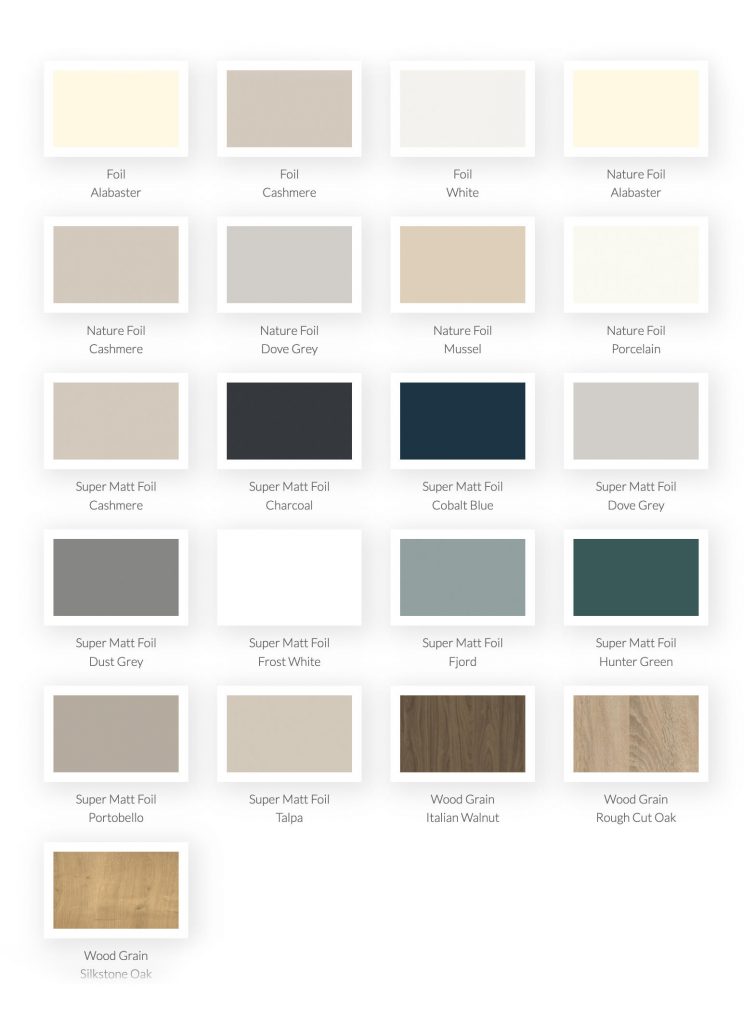 ---
"Highly recommended & very efficient. Also excellent customer services"
Carole Coleman
"Fantastic quality! Top notch service"
Sean Ryan
"Fantastic product, excellent value, great customer service. Highly recommended by us"
Isla Stanger
"A lovely family run business that pride themselves on star quality! "
Tawanda Nyambo
"We recently had fitted wardrobes installed in our new house and we're so pleased with the result. Great service, high quality materials, easy install process and they look brilliant. Thanks James and team!"
Kacie Foskett
"Absolutely professional company with outstanding customer service. Simply beautiful wardrobes would highly recommend!! Thank you James and team."
Claire Pecoraro
"Friendly helpful staff, consideration given to your needs when planning your room, clean tidy workforce."
Denise Lambkin
"If you ever need a bedroom solution to storage without paying the earth, this is the company to go to. Didn't know they did kitchens as well. Would have got a quote when we moved. Will be getting a quote for our second bedroom."
Nicholas Kotarski
"Mirrorspan were a great company to work with. 100% recommend them! We love our bespoke bedroom furniture. Very happy customers."
Anna Singh